~I sit on the park bench, feeling the coolness in the air. I watch my daughters disappear in and out of the maze of blue, red & yellow pipes, tubes and slides. The trees surrounding the sandy lot are just starting to put on their Fall coats.

~Just this morning I had watched
the video
; the interview with
Ann
, her voice quiet and gentle.
And I had felt God speak to me, the tears coming up to my eyes.
Slow. Still. These Mothering moments go by so fast.
~My heart longs to be Mary but my mind is all Martha. How many times am I with my girls but not "
with
" them?
Sorting socks, stacking dishes into the cupboard.
Endlessly chasing after order.
This business of
running a business
and a home has put my inner Martha into overdrive.
And so I went looking for Mary at the park.
~It was just us girls as my Dear Husband was working late.
I watch my oldest dig her hands deep into the damp sand; patting, stacking, building a castle. She will be 10 soon. Every day she is growing more and more into a young lady.
I watch my youngest; fearlessly swinging across the monkey bars. She is so brave.
I try to press the images into my heart.
Suddenly the bustle of the playground stops and all the little eyes turn towards the sky. The honking and squawking is a flock of geese and we watch their V-shaped line move across the pink sky.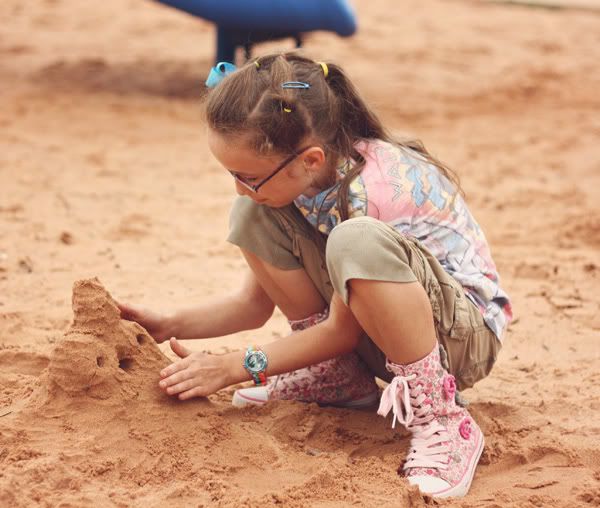 ~The air grows cooler and I load my girls into the car, listen for the click of seatbelts, and head home. As we turn west onto Warner Street we all catch our breath together.
The sky!
It's like a painting; vibrant colors splashed across the canvas.
"Take a picture Momma! Oh! Take a picture!"
And so we chase the sunset. Driving further west, turning onto side streets, looking for the perfect view.
~Finally, standing on a sidewalk downtown I try in vain to capture the shifting colors of the sky. I talk with my girls about how much God loves us.
"Look at the beautiful things He makes just for us to enjoy!"
This moment is full.

~The sky grows darker and we turn again towards home. And there in the Eastern sky:

A beautiful, full, radiant moon.

This was almost

too much

!

Too much gift for a stumbling, struggling Momma.

His love, shining there

.

"Look Girls! The moon!"