~~It is evening and as I carry the dinner dishes into the kitchen images are dancing through my mind.
I leave the plates in the sink and grab sketchbook and pencil; hoping to capture them.
~~Once settled at the kitchen table I put pencil to paper, erase, lay down line again.
Trying to get it just right.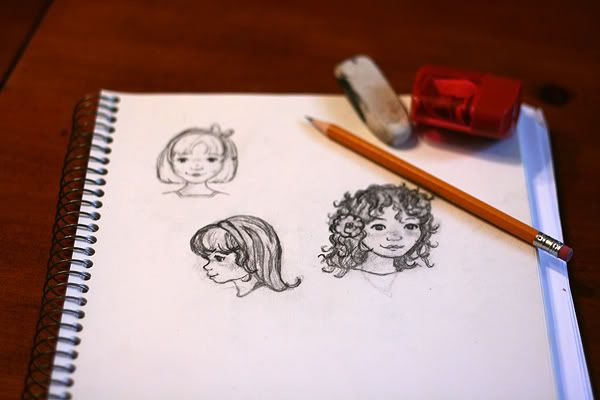 ~~My little one sees me and runs to get paper and pencil of her own. She pulls up a chair next to me and I smile as I watch her fingers fly across the paper.
Her face is a mixture of delight and concentration.
She doesn't erase
.
~~When she's satisfied that it's done her little hands hold up the paper for my inspection.
"Do you like it Momma?"
******************
"Oh yes! I love it!"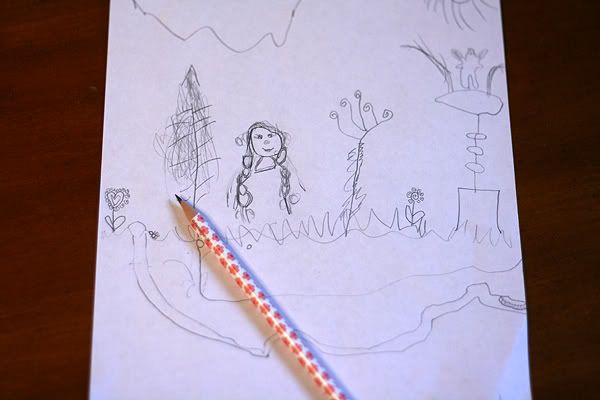 And then she's off; down from the table and away to find another game.
~~How many times have I told myself the lie that my art is not as important; that it is selfish?
After all, there are dishes in the sink and laundry to be done
.
But don't I want my daughters to believe that
creativity is a gift
?
Don't I believe it with all my very heart?
~~I am reminded that my actions speak louder than my words.
That I am teaching them with every stroke of pencil laid, every wash of paint spilled.

As
Ann says
;
"All our lives we all need to create because creativity is the life breath of our Creator Father and if we don't create we breathe stale air and we wither dry
."
~~I peek into the living room to see tinker toy sculptures overtaking the rug. Both girls have been busy building.
And I wonder.
Maybe I have it backwards.
Maybe
they
are the ones who are teaching me.