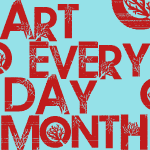 ~~Last week I had the absolute blessing of getting together with a group of Artist Moms. These were women at all different stages of their life; from a Mom of a new little one to a Mom who's youngest will be leaving the nest soon. And yet we all related so incredibly well to each other.
~~We talked about art and Motherhood, about guilt, about finding and making time, and about following God's call to our hearts. We literally talked for hours and probably could have talked for more! I left with my heart overflowing. I could hardly even sleep that night.
~~One of the things we talked about was picking a goal, declaring it, and then breaking it down into small steps. Encouragement has great momentum and we knew that if we held each other accountable we could do great things in bite sized pieces.
And I want to encourage each you you out there to join in too!
~~There are two great challenges going on in the month of November.
**
NaNoWriMo
is a writer's challenge. The goal is to write a 175-page (50,000-word) novel by midnight, November 30.
**
AEDM
(Art Every Day Month) is a creative challenge. The goal is to bring more creativity into your life and do something artistic (painting, drawing, knitting, sewing, cooking, decorating, writing, photography, clay, jewelry-making or whatever) every day.
~~I have so many people tell me they're not an artist.
Let me tell you right now; that is not true!
God created each of us with a desire to live creatively. You don't have to know how to paint or draw to call yourself an artist. If you're struggling with that thought I highly encourage you to download and read my friend Mandy's
Messy Canvas E-book
. It's free and it just might change your life. :)
~~I know that I want to live creatively. It's a desire that burns deep in my heart. It keeps me awake at night. My problem, as I'm sure you've figured out, is fear.
My resistance manifests itself in a lot of different ways;
guilt, excuses, procrastination.
But today I'm going to start kicking fear to the curb.
I'm jumping in, head first, to the AEDM challenge and I hope you'll join me by throwing out some of your own excuses.
We can do this together and see what great things God has in store!
~~I would like to share some of my friends who have committed to make November a creative month:
(And I'm cheering for Rebekah and Amy too!)
If you're joining us will you leave a comment and let me know? I'd love to cheer for you too!