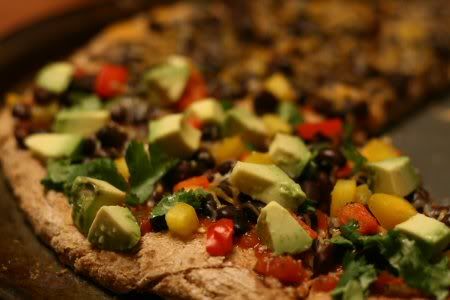 ~~It's been a while since I've shared a recipe. (Honestly, it's just been a while since I've blogged regularly but......)
I thought I would share a recipe that I recently found. I love that it's quick, easy and very versatile. Most pizza crusts are more labor intensive and require kneading and lots of rising time. This one doesn't. And unlike a lot of whole wheat crusts, this one is actually very light and fluffy.
So, here we are:
Whole Wheat Pizza Crust
~1 (.25oz.) package active dry yeast
~1 Cup Warm Water
~2 Cups Whole Wheat Flour
~1/4 Cup Wheat germ
~2 tsp. Vital Wheat Gluten (optional)
~1 tsp. salt
~1 tsp. honey
1. In a small bowl, dissolve yeast in the warm water. Let stand until creamy, about 10 minutes.
2. In a large bowl, combine flour, wheat germ, salt, and if wanted the vital wheat gluten.
(
Vital wheat gluten
is a natural protein found in wheat. When you add it to bread recipes it helps to improve the texture and elasticity of the dough. I've found that it really helps whole wheat recipes to have a "lighter" feel.)
3. Another option at this point is to add some spices like garlic powder, basil, or oregano. I like to experiment with the spices and sometimes add these to the dry mixture.
4. Make a well in the middle of the dry ingredients and add the honey and yeast mixture. Cover and set in a warm place to rise for about 10 minutes.
5. Preheat your oven to 350 degrees.
6. Roll dough out onto a pizza pan that has been sprayed with olive oil. Use a fork to pierce a few holes throughout.
7. Let your crust rise, once again, for about 10 minutes.
8. Bake the crust, (with no toppings yet) for 15-17 minutes.
9. Once crust has pre-baked, remove from oven, add toppings and bake again at 350 for about 5 minutes.
***Tonight we made a Southwestern Pizza. I spread a thin layer of garlic chipotle salsa on the crust and then topped with black beans, bell peppers, and cilantro. When the pizza was done I added avocado and spritzed it with lime juice. The girls took theirs with black beans and cheese only.
***Another great topping idea is roasted veggies. Saute some bell peppers, tomatoes, mushrooms, red onions, and olives in a small amount of olive oil. When the veggies are mostly cooked add a small amount of
sucanat
or brown sugar and a drizzle of
agave nectar
or honey and cook until the sugar dissolves. Spread onto the pizza crust and bake.
***The girls like to keep it simple with jarred spaghetti sauce and mozzarella cheese.
***My next plan is to make a couple of crusts ahead of time and freeze for easy dinners.
Enjoy!!