~~It seems that, no matter what stage of life we're in, there are always excuses to keep us from our dreams. At the time they don't feel like excuses at all. They simply feel like the facts. I know I've been there and allowed myself to buy into those excuses many times.
~~Before I had children I was busy with work and college; too busy to make much art on my own. To this day I'm still puzzled by that. My life was hectic, no doubt, but I had so much more free time then. My excuses stole it away.
~~When our first daughter was born I was, of course, even busier. Then came the 2nd daughter and full-on Mommy-hood.
~~Now, once again our lives have changed and we've come into the busiest season yet. I'm trying to figure out how to balance being full-time Mom, Wife, Homemaker and
Business owner/Secretary
. (Oh yes, and
Artist
!) Much of my days have been spent at our shop. The girls are there with me after school. They love it because they spend the afternoon riding their bikes, playing sidewalk chalk, drawing pictures, or crafting. Then we come home and have the normal things like laundry, dishes, housework, etc. Throw in music and tennis lessons for the girls and our lives are fuller than ever.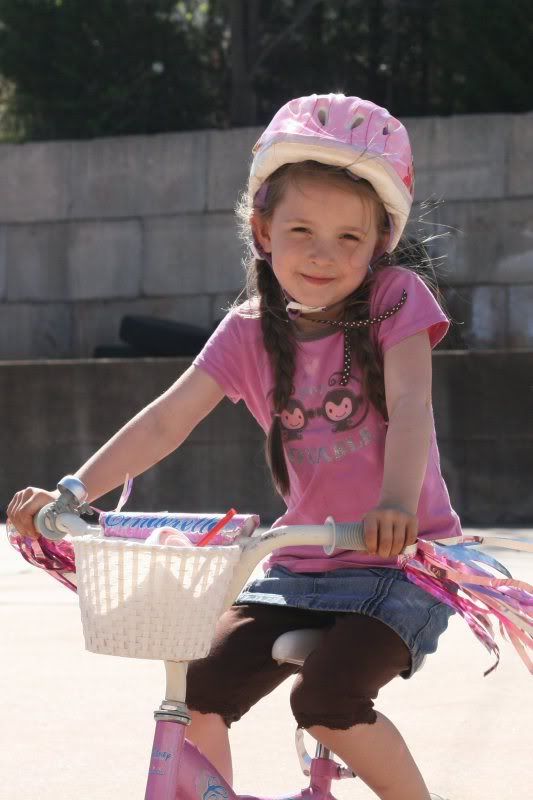 ~~At this point I'm wishing that I could reach back in time to my "pre-business" self and give her a good kick in the pants. How on Earth did I think that I was too busy then?!
~~The point is, I've come to realize that life is never going to simply make my dreams easy to come by. It's not like I'll wake up tomorrow and find a cook and housekeeper, begging to work for free so that I can pursue my art. (A girl can dream!)
~~Recently I watched the movie, "
Julie and Julia
." I had seen it mentioned on
Mandy Stewart's blog
and was reminded that it was one I wanted to see. I'm so glad I made the time.
~~Like
Mandy mentioned
, the thing I admired most about Julie was that she simply "jumped in." Her life was very busy and she could have come up with any number of excuses. But she didn't.
~~As a Mother I can even let my children become an excuse. Now, don't get me wrong. Motherhood is my number one priority and I will never let my art come before my family. But Motherhood means that I no longer have long hours free to myself. My time comes in snips and pieces. At times I've even thought, "What's the use?" But now I see that as just another excuse. Taking those small amounts of time for my art each day will move me ahead baby step by baby step. Wishing and waiting for long hours free will not.
~~As a Mother I have to come up with new ways to have my creative time. Maybe that's waking up early or staying up late. Instead of waiting for uninterrupted time, I need to learn to paint alongside my girls; to involve them in my art.
Kathy Fincher
, an artist who I truly admire whose daughters are now grown recently encouraged me with an email. Some of what she said was
"Painting with the children at home was a tremendous gift to them..........
Bless your family by sharing your passions with them.........
Yes, our children are better for it!"
~~It's not easy making time for your passion. It's always a day-by-day choice. And some important things (laundry) will have to take a 2nd seat. But I'm simply not willing to let life go by while I ignore or excuse away the call of my heart.
So that's it! No more excuses!
ETA: I wrote this post a couple of weeks ago. Then,
this past Sunday
Oklahoma City was hit by a
massive hail storm
. One of the fleets that my husband manages was majorly damaged. We are beyond busy at this point. Busy is an understatement. Nevertheless, I'm sticking to my guns. No more excuses! I've been carting my paints to the shop in a rolling bag and sneaking in time to paint in between writing estimates, catching up paperwork and making calls. And the amazing thing I'm finding is that those stolen moments are truly helping me stay calm in a time of craziness. I believe that God gives us creativity as a way to not only bless others, but to stay connected to Him. I am a better Wife, Mother and Business owner when I take those little bits of creative time.