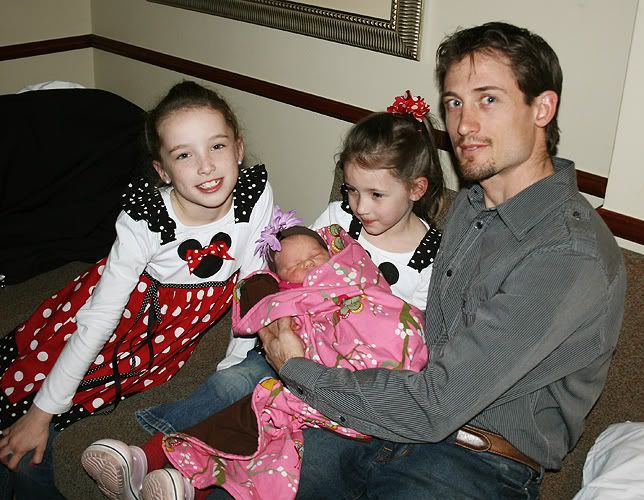 My poor, neglected blog! Sigh....
~~As you can imagine, life has been quite an adventure for us lately since opening
our business
. It's been 6 weeks since we had our ribbon-cutting and Grand Opening. So much has happened in that short amount of time.
~~The day before we opened our business, our precious little niece was born. Both of our girls were so excited to finally have a "girl cousin" since they've been the only girls up to this point. They absolutely love their boy cousins but it was exciting for them to think about a little girl to someday share "girlie" things with.
~~When we visited her at the hospital, Sierra and Savannah took turns snuggling her and cooing over how pretty she was. I couldn't help but feel a little twinge of pain at how quickly my girls had gone from tiny newborns to big little girls. How did it happen so quickly?
~~A few days before we announced our business, Dustin posted a little teaser on
Facebook
. He said that we had some big news to share in a couple of days. Immediately, it seemed that everyone assumed that we were having another baby. It's funny how you say "news" and everyone thinks "baby."
~~We had a laugh over that and soon told everyone that no, it wasn't a new baby. It was a new business. But as I look back over these past 6 weeks, I'm beginning to see that there aren't a lot of differences between the two. In a way, "having a new baby" is the perfect way to describe our experiences. My girls may be older now, but I haven't forgotten those first years.
~~When you're pregnant you try to do everything possible to prepare yourself for the new arrival. (Especially if it's the first one.) You read books, talk to other parents, make plans, etc. Even though you're a bit nervous you think that in some way you're ready for the changes.
But as any parent can tell you, there's simply no way to understand parenthood until you experience it.
~~Dustin and I have been experiencing that same roller-coaster ride as new business owners. We didn't jump into this haphazardly. We planned, prepared, and prayed. (a lot!) And yet, like new parents, this new change in our lives has brought so many emotions. Joy. Peace. Fear. Anxiety. Confidence. Happiness. Worry. Stress.
Up.
Down.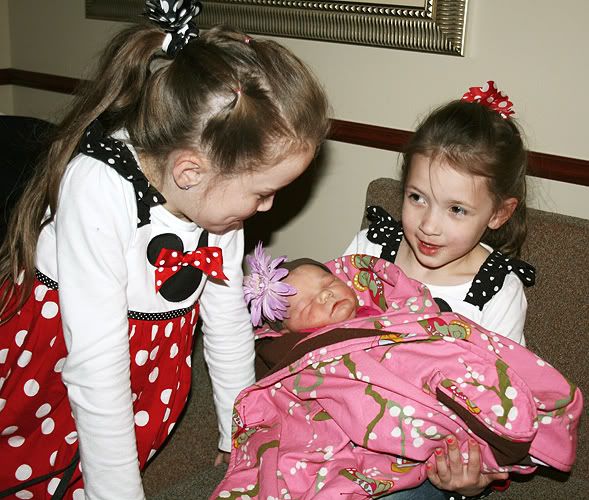 ~~Each time we took a new baby home from the hospital I secretly wished that they would send me some instruction manual. Something.
Just tell me what to do and I'll do it.
I'm good at following directions.
But babies don't come with instructions.
Instead we must learn how to be parents day-by-day. We get to know our precious baby by spending time with them. We're not perfect. We make mistakes. But we learn and grow together.
I feel that the first birthday is truly more for the parent than the child. It's a celebration of the fact that you've come a long way in a year.
~~Our business has brought about a lot of changes in our lives. It's truly a complete family project. It has brought us closer to each other and caused us to sink our roots down deep in our faith and family. I won't try to hide the fact that there have been some emotional times. Just like with a new baby it seems that all routine and normalcy has been thrown out the door. We're looking to find our "new normal."
~~As I look at our daughters, I'm so proud of each of them. Every day they grow more and more into their own identity. I'm definitely not perfect as a parent but I truly love being a Mother and the closeness and understanding that I share with my girls.
And that thought is an encouragement to me when it comes to our business. I know that as we simply take each day at a time we will grow as our business does.
I may have a few more sleepless nights now,
but I least I don't have dirty diapers, lol.
*P.S.
I'm sorry but I had to change my blog settings so that anonymous comments are not allowed. I was getting spammed at least once a day. I truly appreciate each and every (real) comment so I hope it doesn't keep some of you from sharing your thoughts. :)