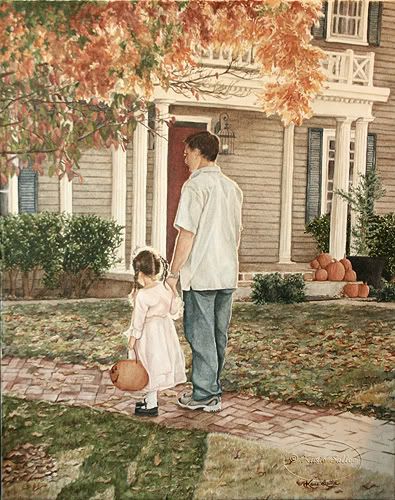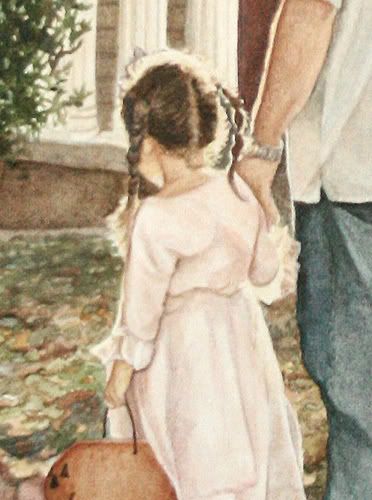 "Through Season's Change"~ 20" x 16" Acrylic & watercolor on watercolor canvas~Copyright 2009 & Beyond~Kasie Sallee
~~This painting has been in my heart and on my mind for a long time. I actually took the reference photos at the end of 2008 and filed them away. After finishing up the little angel "
Joy
", I felt that it was finally time to work on this piece.
~~The special relationship shared between Daddy and daughter is truly a treasure. It's hard to put into words that bond between them. They say that a girl's first love is her Daddy and I do believe that it's true. I know that both of my girls are infatuated with my husband and he's been wrapped around their little fingers since day one.
~~I wanted to try and capture that relationship in a painting.
Though the season's of a girl's life will change, in her heart her Daddy will always be "her Prince."
And even as he watches other loves come into his little girl's life, the Daddy will always be there to protect, defend and comfort.
~~I'm not sure if you can tell, but the little girl in the painting is dressed up as a princess. She's wearing a pretty pink dress and crown. I can't help but to also be reminded of the relationship that we can have with our Heavenly Father. Even if you didn't have the best Father here on earth, you still have a "Daddy" in Heaven who wants to walk with you, hold your hand, and be your protector.
~~This was the last piece of 2009. I finished it up on New Year's Eve. I'm excited to begin a new year of painting!