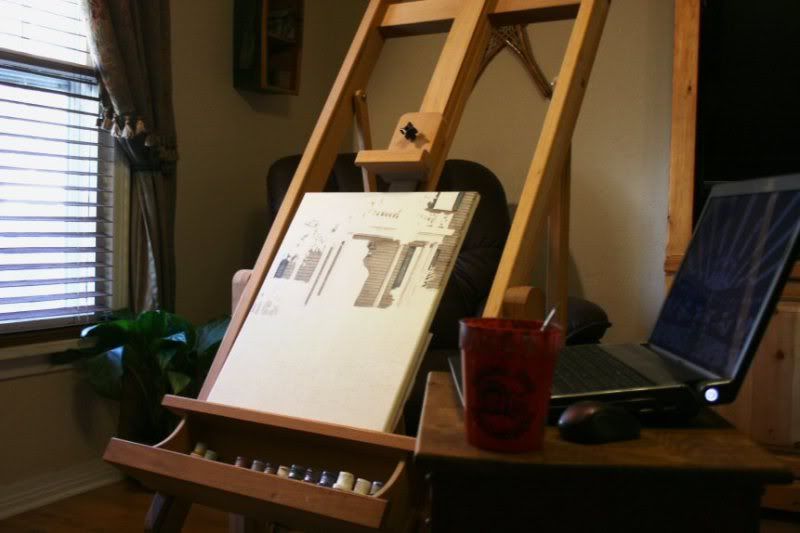 ~~Just a little bit of a sneaky peek to prove that I've been working, lol. I've been pulling my easel into the living room to paint since it seems to be the central "spot" in our house. I also like being next to the window because the light is better.
~~I've posted this video before but I've been thinking about it again recently after reading another artist's post the other day.
"Realism and Emotion"
I love and admire all different styles of art but have always been drawn to realism. The challenge of creating something accurately always excites me. And yet I've never been interested in work that is simply photo-realistic and empty of emotion.
~~In the video clip Steve Hanks talks about how you can portray emotion in so many ways; the setting, the subject, etc. It's the reason that I only work from my own references. Paintings for me start with an idea and a feeling. Then I work to get the reference shots I need to help me. And from there I work to infuse the painting with emotion and feeling. I may change the overall color tone or emphasize some parts while pushing back others. The end result, I hope, is a painting that, while being realistic, is more about bringing out feelings and connections with the viewer.
~~The reason I've been thinking so much about this is because realism seems to get such a "bad rap" among artists. It's true. The blog post I read pretty much summed up the feelings that a lot of artists have. She said that,
as a beginning artist your goal is to learn to draw accurately. But eventually, as you grow, you want to break away from that.
I just don't completely agree.
~~When Dustin and I went on our anniversary trip we watched a movie called
Local Color
. It was such a great "art movie" and it covers this subject so well.
~~Well, back to work for me! :)
Happy Thursday.