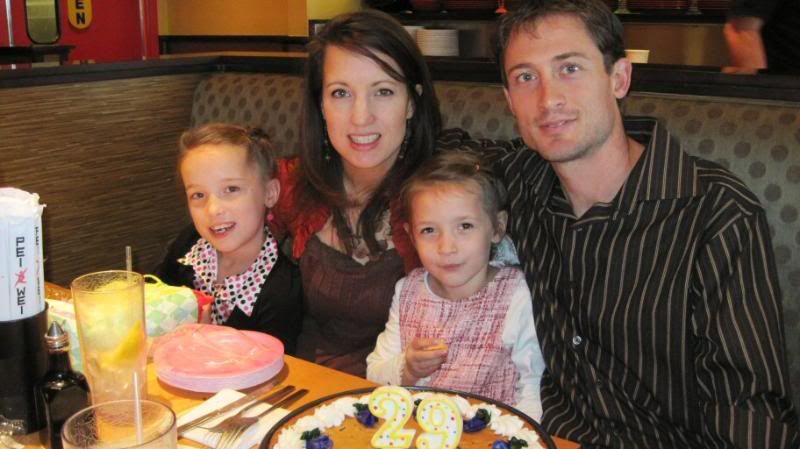 ~~Hello Monday morning!
I'm ready to start this new week, although I have to admit that it was a bit hard to crawl out of my cozy bed this morning. Fall days are like that and flannel sheets are oh-so-wonderful!
~~We had a great weekend as a family. Saturday we took the girls to see a movie at the theater. It's a rare treat for us so it's always so exciting for them. We watched
Cloudy With a Chance of Meatballs
and both girls giggled through the whole thing. It was cute and silly and right up their alley.
~~Sunday was the beginning of my last year as a 20-something. Yes. My 29th Birthday. I'm honestly not so terrified at the thought of turning 30 and yet something about this being my last year in the 20's makes me feel like I should make it extra special. I think I need to make a list of 30 things to do before I turn 30 and dream big.
~~After Church I had dinner with my family. It's always so nice to get together with all of them. We had oriental food and my fortune cookie said, "Don't be afraid to take the next step." Hmmmm.
~~The afternoon was beautiful and fairly warm for a Fall day. Dustin and the girls worked together to carve a pumpkin while I baked some pumpkin oatmeal cookies. Okay, in reality Daddy did all the carving while the girls watched and cheered him on. They were quite grossed out by the inside of the pumpkin, lol.
(I think Daddy did an awesome job by the way!)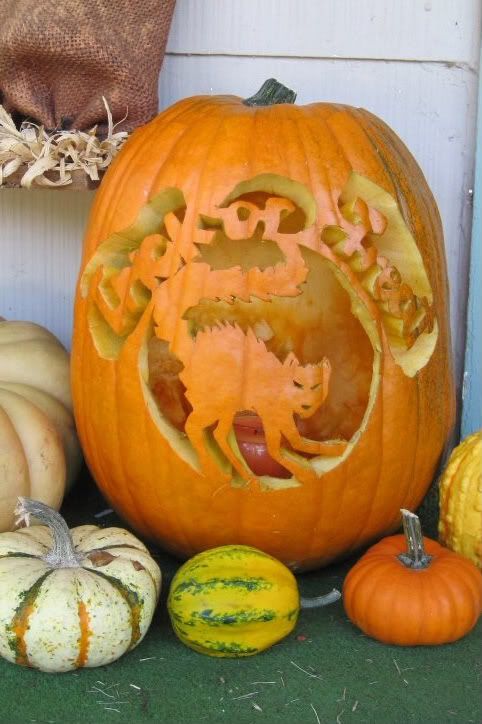 ~~In all it was simply a truly nice day made even better by the fact that we are all healthy. Thanks for all the "get well" wishes.
~~And since they turned out absolutely delicious, I thought I'd share the Pumpkin Oatmeal cookie recipe with you:
Happy Fall!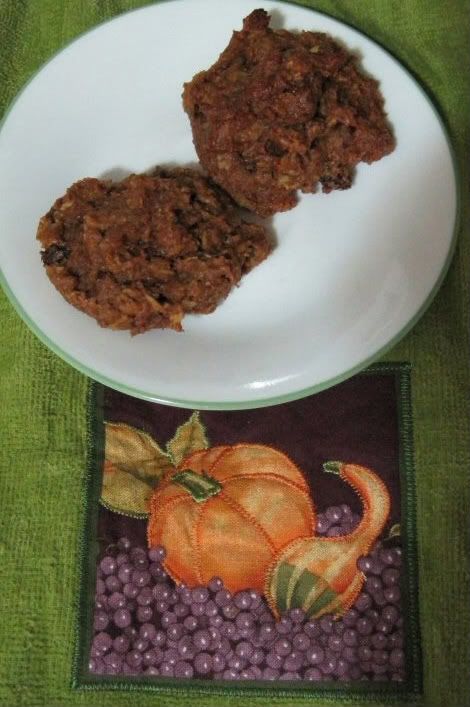 Pumpkin Oatmeal Cookies (Vegan)
*2 Cups whole wheat flour
*1 1/3 Cups rolled oats
*1 tsp. baking soda
*3/4 tsp. sea salt
*1 1/2 tsp. pumpkin pie spice
(If you don't have pumpkin pie spice you can use 1 tsp cinnamon & 1/2 tsp nutmeg.)
*1 2/3 Cups unrefined sugar (I used sucanat.)
*2/3 Cup canola oil
*1 Tbs. molasses
*1 Tbs. maple syrup
*1 Cup pumpkin
*1 tsp vanilla
*1 Cup pecans
*1/2 Cup raisins (Soak in hot water and drain first. This makes them moist and plump.)
~Preheat oven to 350 degrees. Grease 2 baking sheets or use parchment paper.
~Mix together flour, oats, baking soda, salt and spice.
~In a separate bowl, mix together sugar, oil, molasses, syrup, pumpkin and vanilla until very well combined. Add dry ingredients to wet in 3 batches, folding to combine. Fold in nuts and raisins.
~Drop by Tablespoons onto greased cookie sheets. They can be placed fairly close together since they don't spread much. Flatten tops with your fingers to press them into a cookie shape. Bake fro 16 minutes. If you are using 2 cookie sheets, rotate the sheets halfway through for even baking.
~Remove from oven and place on wire rack to cool.
Enjoy!