~~There are times that I feel as though I should wait for some "special event" to blog. But then I realized that most days are filled with special moments disguised as "ordinary." It's those special little things that make up our lives and if we aren't careful we'll overlook them.
~~The morning started off like most school days do; with me trying to juggle making breakfast, getting my sleepy-headed girls dressed and combing their hair. Then I double-check the homework/permission slips, pack Sierra's lunch, make sure the teeth get brushed and that the jackets aren't forgotten. Whew! It's no wonder that most of the time I take them to school with my hair pulled back in a clip and no make-up on, lol.
~~I came home and drank a beet-romaine-carrot juice while finishing up some cleaning and paperwork. The morning seems to fly by so quickly and before I know it, it's time to pick up Savannah. (She only goes half a day.)
~~Today was a special day because I had planned to have lunch with Dustin. He works in a town about a 30 minute drive away. I love having lunch with him and I also get a chance to pick up some of our groceries at the neat little health food store there.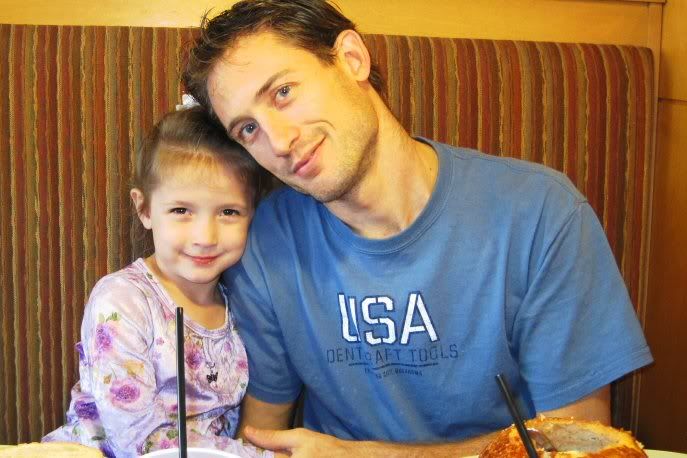 ~~It was a bit chilly today so soup sounded like a great lunch choice. I had tomato soup in a sourdough bread bowl. Yum! I love getting to spend time with my favorite guy during the middle of the day.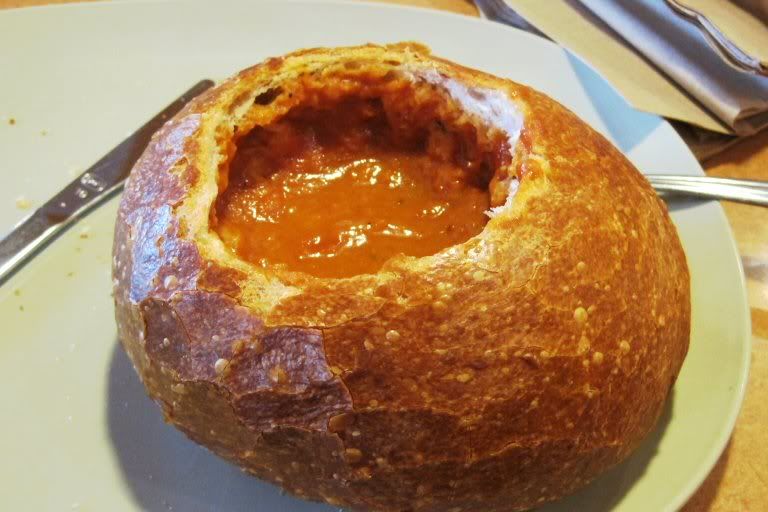 ~~Savannah and I then headed over to
Nature's Supply
for some raw cashews, brown rice noodles, tamari, an organic lollipop....you know, the necessities, lol. Next was Wally-World for the rest of our groceries and then back home to pick up Sierra from school.
~~Maybe it was the busy day or maybe the sound of the rain on the windows, but Savannah crashed on the way back.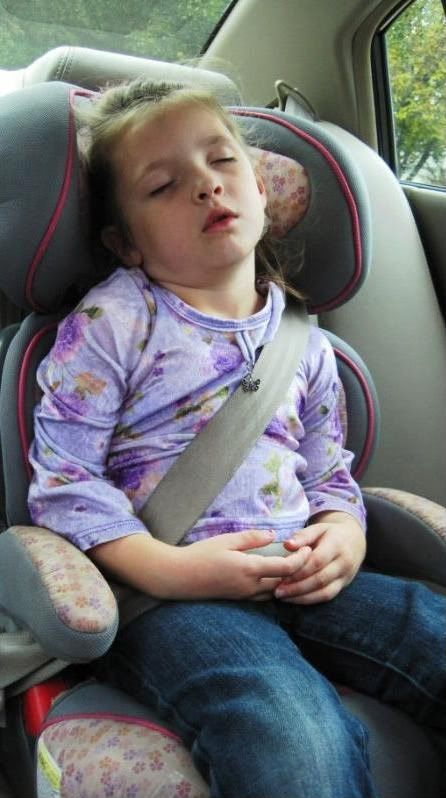 ~~I found a spot in the car-rider line and pulled out the latest issue of
VegNews
to read while Savannah napped. Mmmmmm. I see black bean tamales in our near future.
~~Picking up Sierra is always a bright spot in my day. She usually jumps in the car mid-sentence and then proceeds to fill me in on all the "2nd grade happenings." Today she was very excited to tell me about "haunted gym class." She also wanted to show me her chia pet that had been grown in class. She has plans to give it a haircut and a ponytail. :)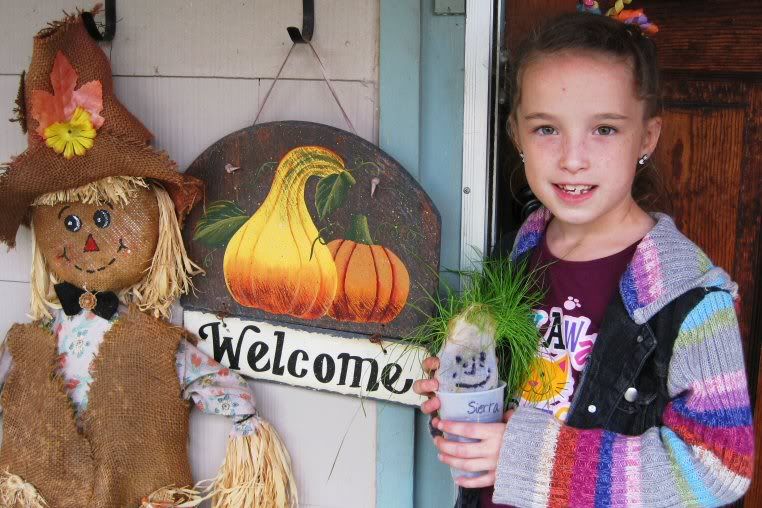 ~~The rest of the afternoon was spent putting away groceries and preparing supper. I had a really nice run yesterday and was planning to get weights in today. The problem is that if I wait until evening after homework, baths, cleaning up the kitchen, etc, I'm usually pretty beat. My goal is to get back into the habit of waking up before everyone else and getting it done. I miss that.
~~Today has been a simply great day; the kind that I enjoy. The leaves outside are painted in many bright colors. The quiet rain makes our home feel especially cozy. I have a new drawing in progress as the start of a painting. My little family is healthy and well again.
Yes. I have so much to be thankful for!