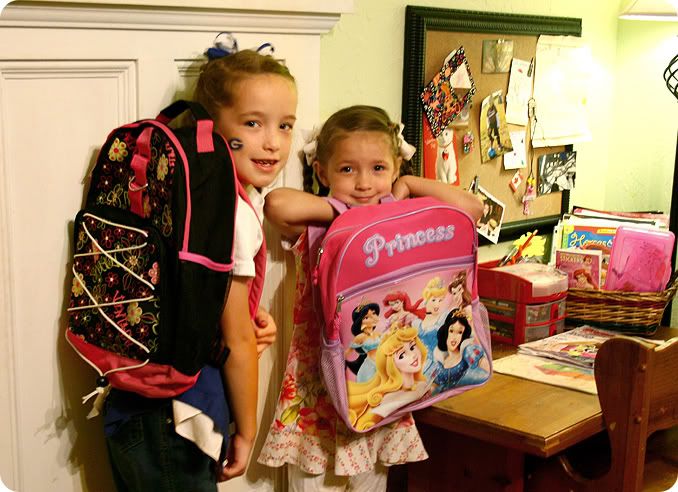 ~~I have to admit that I'm a bit tired tonight. But it's been a good day. Today was the first day of school for both girls. I wasn't quite sure that I was ready for that. Last night I lay in bed crying. Not because I was worried about how they'd do, but because I still can't figure out a way to keep them from growing up, lol. This morning I woke up feeling much better and ready to help my little girls on their big, adventurous day.
~~It was a rainy, sleepy morning and both girls had a hard time waking up. Once they remembered school however, they were happily getting around. We had some pumpkin muffins and fruit and then gathered the umbrellas and backpacks and headed out into the downpour.
~~Sierra was the first stop. She's in 2nd grade this year and couldn't be happier. She got the teacher that she had her heart set on and both her best friend and also her cousin are in the same class.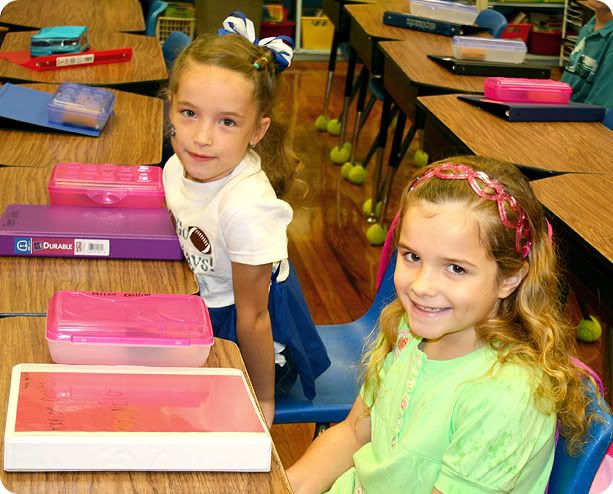 ~~Sierra and her best friend have had the same teacher every year since Pre-K.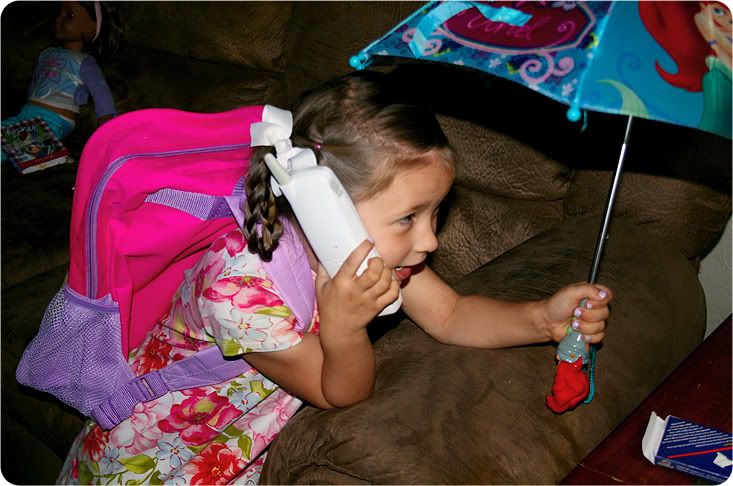 ~~Savannah was more prepared for school than her Mommy was. She couldn't wait to go!
~~I walked Savannah into her class and we found out where to put her backpack and how to choose a "center." Savannah chose puzzles first. She gave me lots of hugs and kisses and then said, "Bye Mommy!" I kept hovering for a while and she said, "I love you! Bye Mommy!"
Sigh.
I guess she's ready.
~~Savannah only has class in the morning and I was excited to pick her up and hear about her day. She told me about the book they read, the treat they had and how she got to see the gym. She said she loves her teacher and wants to "do this every day!"
~~In the afternoon we picked up Sierra. (Not soon enough for her sister who kept asking when it was time.) She also had a great day and was very talk-ative when she climbed in the car. She loves being a 2nd grader and asked if we could stop by the library to get some American girl books for her to read. Although it breaks my heart to see them grow, at the same time I'm so proud of the big girl that she's becoming. I love to see her personality shine.
~~So now this tired Momma needs to get some sleep so that we can wake up and start the routine all over.
~This time I might cry a few happy tears.