I have
got
to get better at coming up with blog titles!
~~We had a great Independence Day. The weather was perfect. Usually the 4th is incredibly hot but not this year. It was cloudy and overcast most of the day but that kept the heat down.
Dustin had a bike ride in a nearby town so the girls and I dropped him off and headed to the big parade. They
loved
it! I let Sierra have control of the camera for most of the parade and ended up with no less than 202 pictures of horses, floats, puppy dogs, old cars and clowns, lol.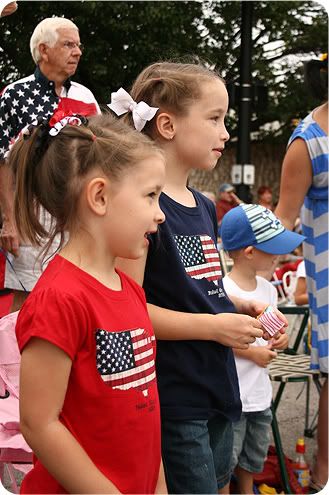 ~~We picked up Dustin and had a fun afternoon just spending time together.
In the evening we packed up a cooler with
Boylan's rootbeer
(a once in a while special treat for us) and cookies and headed to the big fireworks display at another nearby town. On the way there the clouds began to grow dark and the wind became very strong. Halfway we decided to turn around and go back home. The girls weren't too disappointed because we had our rootbeer and cookies on the living room floor, played several games of
Zingo
and then watched the big Boston fireworks display on tv.
~~And now, since it's been a while, I thought I'd share a recipe. Dustin and the girls have proclaimed these to be the best cookies in the world.....even topping the
Big Fat Chocolate Chip cookies
which is quite a feat! I couldn't be happier though, considering that these are actually vegan cookies and a much healthier option for a treat. I found the recipe on the
Eat Drink and be Vegan
blog and then changed them a little bit.
Vegan Oatmeal Raisin Cookies
This makes a small batch; about 9 cookies.
~3/4 Cup + 1 Tbs whole wheat flour (the original recipe calls for spelt flour)
~1 tsp baking powder
~1/4 tsp baking soda
~1/2 Cup quick oats
~1/4 Cup unrefined sugar (I used sucanat)
~1/ 4 Cup raisins (soak them in hot water for a while & then drain before adding)
~1/2 tsp pumpkin pie spice
~1/4 tsp sea salt
~1/4 Cup pure maple syrup
~1/2 tsp blackstrap molasses
~1 1/2 tsp pure vanilla extract (using the real stuff makes a big difference!)
~1/4 Cup canola oil
~Preheat oven to 350 degrees. In a bowl sift flour, baking powder, and baking soda. Add oats, sugar, drained raisins, pumpkin pie spice and salt and stir until well combined. In a separate bowl combine syrup, molasses, and vanilla and then stir in oil to incorporate. Add wet mixture to dry and stir until just well combined. (Do not over stir.) Line a baking sheet with parchment paper or lightly sprayed aluminum foil. Spoon batter onto baking sheet, evenly space apart and slightly flatten. Bake for 11 minutes (no longer or they will dry out) until lightly golden. Remove from oven and let cool on baking sheet for 1 minute, then transfer to cooling rack.
Enjoy!