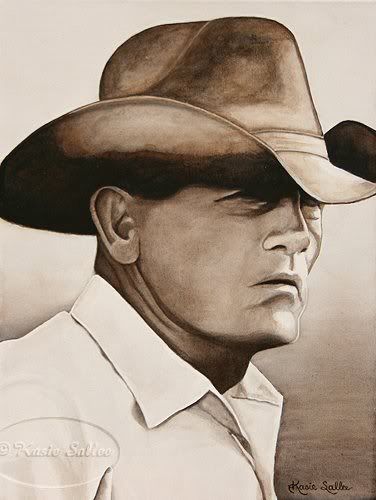 "Cowboy"~ 20" x 16"Acrylic on watercolor canvas~Copyright 2009 & Beyond~Kasie Sallee
~~Here is the final version of the cowboy commission I had mentioned
before
. It took a bit of time because I wanted the final result to be exactly what my client had envisioned in his mind. I had an old, grainy black and white photo to work with and the story of a man who was a tough-as-nails true cowboy. The man was my client's uncle and I felt honored to be asked to help preserve a bit of family history.
~~I decided to go with a dark, sepia toned palette instead of simple black and white because I felt that the brown tones would add life to the piece. This was a challenging change of pace for someone who is used to painting the soft-toned skin of children! Even after I thought I was finished I ended up adding several more dark layers to the skin to add a "rough" texture. I was afraid of having it look too rough but my client said, "Oh no! You can't get too much texture because he had skin like leather."
~~So here is the final piece and for fun I thought I'd also post the reference photo.