~~I enjoy reading blogs where the authors share a little glimpse into their everyday life. One blog that I've recently found and have grown to love is Sarah's from
LovIN my Tummy
. She's a Mom of 2 little girls with a great sense of humor and a knack for words. She blogs about the ups and downs of being a busy Mommy and gives you a little slice of their life in photos every day.
So I thought it would be fun to post a glimpse of an ordinary day around our house.
I, unlike Sarah, am not so wittty so I hope this little post doesn't get too dry and boring for you guys! Here was our Friday:
~~I woke up early so that I could get my workout in before the house got busy although I did let myself sleep in a little later than my normal 5:30 wake-up call. Hey! It
is
summer! Today was upper body weights and I listened to a station based off
Jem
on
Pandora
while I pushed through it. My arms were like jello when I was done!
~~I enjoyed a bowl of oatmeal with almond butter and half a banana and when I was just finishing up I heard the pitter-patter of little footsteps coming around the corner. It was Sierra and just a few moments behind her was little Sis. We had some "Good Morning Snuggles" (since Mommy wasn't too sweaty.) The girls watched a little
Larry Boy
(gotta love those
Veggie Tales
) while I set about fixing breakfast. Today's request: scrambled eggs and pineapple for Sierra and pancake with blueberries for Savannah.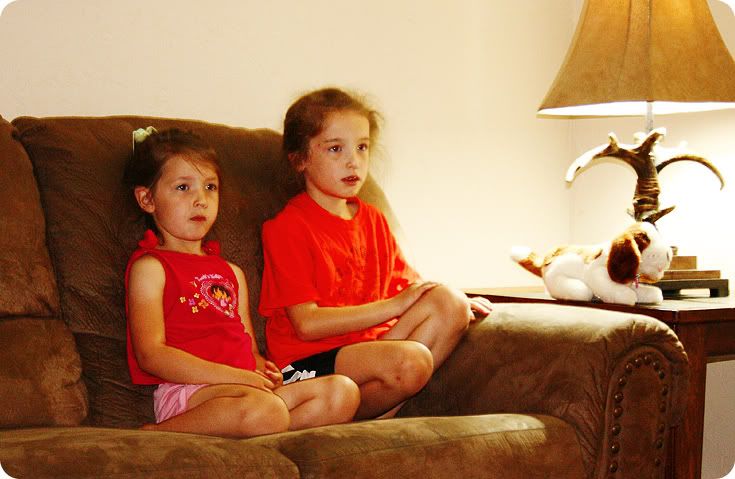 Normally they want the same thing but this morning they decided to be individuals, lol. The pancakes are a yummy recipe from
The Eat Clean Diet for Families and Kids
and I just keep a bunch in the freezer. Pop 'em in the toaster and you've got a quick, easy breakfast.
~~While the girls finished up their video and breakfast I took a quick shower and had my quiet Bible/prayer time. I have to be careful not to leave this part of my day out. I tend to hit the ground running and sometimes it's hard for me to slow myself down.
~~The girls went outside to play for a bit while I did some housework and attacked our ever-present laundry pile. Good grief! How do the
Duggars
do it? I only have laundry for four! The mornings have been nice enough that I can keep the back door open and peek out at the girls while they're playing.
They look so sweet in this picture! It's not all sugar and spice all the time though. Not long after I snapped this they were standing at the back door yelling, "Mommy! She hit me!" "No! She hit me first!"
Aaaaah. So much for my Kodak moment.
~~It was already starting to get warm at lunch time (Hello Indian Summer!) so the girls decided to have their picnic lunch inside.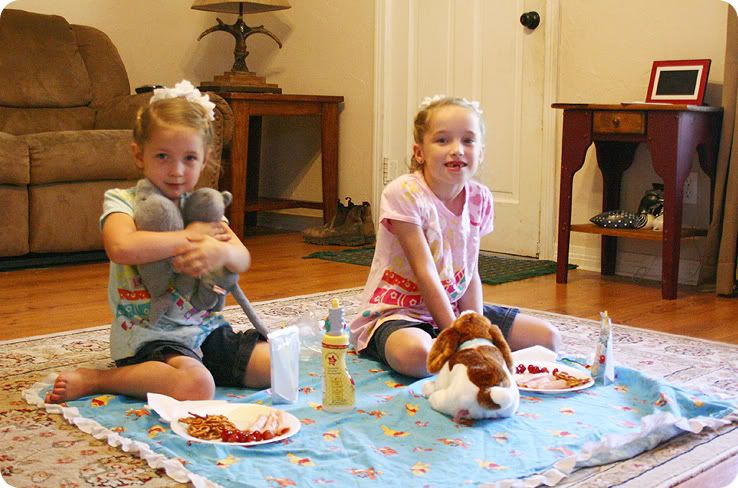 For them it was turkey lunchmeat, cheese, pretzels and grapes. I put together a yummy, crunchy summer salad for myself.
*Spinach, romaine and purple cabbage
*Dulse
*Cucumber
*Avocado
*Baked plantains
*Yellow bell pepper
*Broccoli slaw
*Bean sprouts
*Popped Amaranth
I'm loving this combination. It might sound complicated but really it isn't. I just keep a bunch of salad ingredients in the fridge and then throw them together at lunchtime.
~~After lunch I started to get things around for my photo-shoot in the afternoon. I had arranged for the cutest little girl to model for me for another angel in the "
Little Angel Series
." I've been so excited about this photo-shoot because I'm anxious to get started on another large painting. I got out the props I needed, checked my camara, printed out my model release, and made a list of notes for myself. I also started getting the girls' things together for their planned "camp-out" at Dustin's parents house in the evening. They were both very excited.
~~I met with my little model and her Mom in the afternoon and the shoot went wonderfully. I'm not going to spill the beans on this painting yet but after looking at my photos I'm incredibly pumped to get started.
~~After the photo-shoot I took the girls to the library for craft time. My girls are little craft-aholics so we couldn't miss the chance to make a beaded inchworm and glitter bookmarks, lol.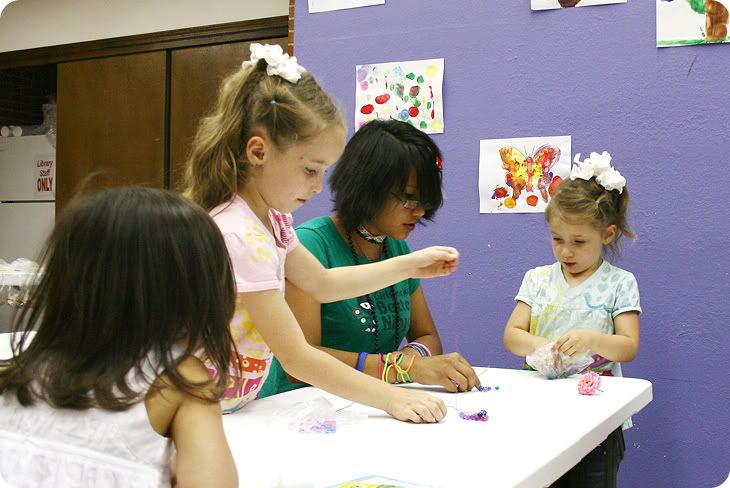 We came home after crafts and finished getting ready for the camp-out at the Grandparent's.
Dustin came home and we dropped the girls off with lots of hugs and kisses.
~~Since we were going to be on our own for the evening, Dustin and I decided to go on a once-in-a blue-moon real date. This is the point in the day that I forgot to bring along the camera and I was a bit bummed about it. We ate dinner at a wonderful Asian restaurant and the food was delicious!
~~After dinner we did a tiny bit of shopping and I snagged some of the Ora Keily dishware from Target. (Yay!) Then we headed over to Barnes and Noble to sit, drink coffee and read.
We're quite adventurous on our date nights, lol.
After being around two busy, talkative little girls a quiet evening just sitting together was a tiny piece of heaven.
~~And that's how our Friday went. Busy, full and good.
Oh....and since I had to have this song stuck in my head all day, I thought I'd pass it along.