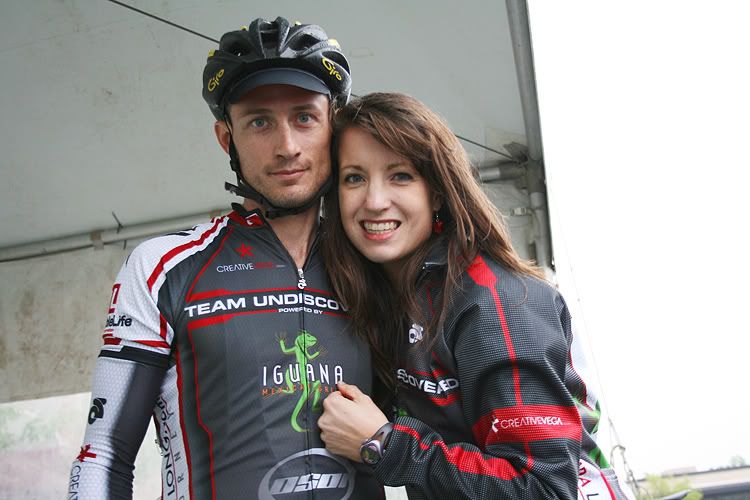 Thanks so much for your kind comments and emails about my tummy troubles. I'm thankful to say that I'm doing so much better! What I hadn't mentioned was that Dustin had a very exciting stage race coming up last weekend which was one reason I finally gave in and went to the doctor. I knew there was no way I was going to miss going.
~~Friday morning we headed to Fayetteville, Arkansas. (About a 4 hour drive.) Dustin was competing in the
Joe Martin Stage Race
. We got there in time to see the pros getting ready to head out. Dustin was able to meet and talk with
Floyd Landis
which was truly a highlight of the trip.
(Floyd won the 2006 Tour de France but had it taken away after supposedly testing too highly of testosterone after one stage. Dustin & I have read his book and both honestly believe that Floyd is innocent and still deserves to be called the winner.)
~~Saturday Dustin had hard time trial and did awesome! He placed 6th and had a time that was better than some of the upper level categories. (Dustin is currently a Cat 5 but is working his way up.)
~~Saturday afternoon was stage two; a 46 mile road race. This is where things went bad. About 6 miles in Dustin had a flat. He had to wait for the sag truck to come up behind with his spare wheel. By the time he was changed out the lead group was pretty far ahead.
In cycling you go faster and save energy by being in the pack. They work together to draft off each other and share the pull.
Dustin had to spend so much energy catching back up to the pack that by the time he was there he was burnt out and had to pull off and finish solo. He still did a wonderful job and I was so proud of him but he was dissapointed because he lost quite a bit of time in the overall classification.
~~Sunday afternoon we watched the pros race the critierium. A criterium is a closed lap course where you race in time increments instead of miles. They are super-fast paced and fun to watch because you get to see the riders come around so many times.
I can't even describe the excitement of seeing the pros race. Americans are missing out on
truly one of the most amazing sports
. These men are fearless and literally fly. We stood at the end of a hill on a curve to watch. When the lead motorbike topped the hill you could actually hear the hum of hundreds of wheels coming. As they flew down the hill at 41 mph (there was a speed gauge right beside us) you could feel a rush of wind. They would lean into the curve and zoom around us. It was
amazing!
~~Dustin's Crit was in the afternoon and was one of the best, most exciting races I've ever seen him do. He rocked it! He pushed so hard and was flying by in the lead group every time. It started to lightly rain but the girls and I didn't care. We were screaming and ringing our cowbells every time he went around. He layed it all out and placed 2nd, coming very close to winning. I was so proud of him! At first he had considered not racing the crit because he was so dissappointed about the road race results. He knew that he was too far behind in time to place in the GC. But he's too driven to quit and I love that about him. Getting 2nd in the crit was a big boost for him and was a great way to end the weekend's racing.
~~
God was so good to me
and Friday was the first day that I didn't have any bad spells during the day. Throughout the weekend I would have smaller spells with my stomach but nothing like I'd been having. It has gradually gotten better and better each day and now I'm almost completely over it.
I'm so thankful!
~~Catch up with you all soon!