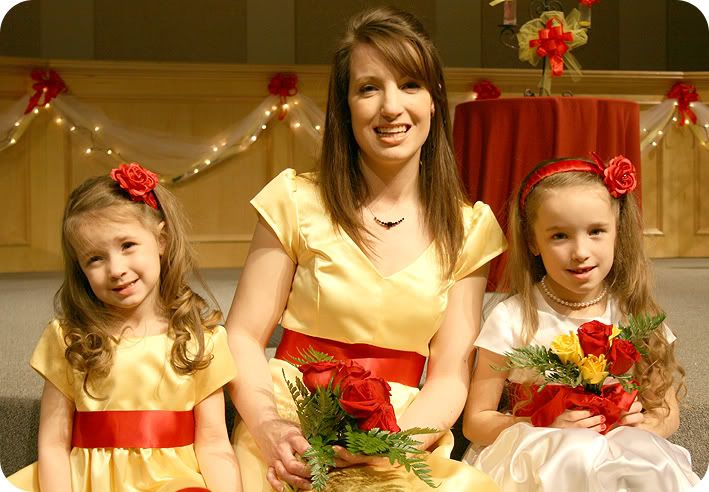 ~~So, the other day I popped onto
Facebook
. (I know. Should have been doing something else!) I never stay on very long but I've sadly found that it's one of the only ways I can keep up with my out-of-town family and friends. Anyways, one of my friends had taken a quiz that caught my eye. It was the "What Kind of Mother are You" quiz. I never do the quizzes, games, tags, etc but this one piqued my curiosity. What would it say about me?
~~I clicked on the quiz, answered a few questions, and this was my result.
I seriously had to laugh at that. It was too true.
And even though it's just a silly game, I couldn't stop thinking about it later that day.
~~Why
do
I stress so much? Why
am
I always frazzled? Why
is it
that the harder I try to stay on top of things, the more I feel behind?
I think the answer is that I'm trying to be too many Moms all rolled into one.
Let me explain:
We all know women who we admire. They seem to be so good at what they do.
There's the:
~Photo-taking/Scrapbooking Mom:
She's always taking pictures and documenting memories. She can tell you when her kids took their first steps or lost their first teeth. She gets family pictures taken regularly and each kid has a professional portrait taken on their birthday.
~The coupon-clipping frugal Mom:
She makes weekly menus and grocery lists. She clips all the coupons and organizes them well. She scours the grocery adds and every week saves her family money by her careful planning. No fast-food runs after soccer practice. She's got a home cooked meal waiting in the crock pot.
~The Super-Organized PTO Mom:
This lady is on top of her game. You see her come to the meetings dressed like June Cleaver, carrying her calendar, notebook and extra pens. She volunteers for all the school functions and heads up the 1st grade carnival. She organizes the teacher luncheons and knows all the staff by their first names.
~The "Martha Stewart" type crafty decorator:
This lady has a home that looks like it came from a magazine. Neat, organized, clean. She has a knack for decorating and loves to make crafty little things to display around the house. She can sew, crochet, etc. and her home has lots of special, personal touches.
The Super-Fun Play Group Mom:
Kids love this type of Momma. She's never, ever too busy to get down on the floor and play with the kids. She's very good with kid crafts and never worries about messes. Finger-paints, play-dough, paper mache; it's all good with her. She always has time to bake cookies with the kids or run to the park. Stress rolls right off this Momma and you'd be more likely to find her outside running through the sprinkler with the kids than inside cleaning the bathroom.
Me?....
I really don't fit in any of these groups but I find myself trying to be a little of each. I take a lot of pictures but never scrapbook. I'm happy just to get my pictures burned onto cds. I'm horrible at getting the girls pictures taken professionally and really bad at keeping track of all the little milestones in their lives. I guess that's part of why I blog.
~I'm a semi-coupon Mom. I try so hard with this one but it just ends up causing me even more stress. I clip coupons but not regularly. Do you know how long that takes? I was trying it for a while. I make menu plans and use coupons when I have them and I do believe that I save my family quite a bit of money but I've been known to do the McDonald's run after soccer practice more than once.
~The PTO Mom? Not me. The lady in the dress suit with pearls and heels makes me nervous. I go to the meetings and I'm the Mom in the sweater and jeans. I whip out my Palm pilot to take notes because I forgot to bring a notebook. I love being involved with my daughter's school and offer to help her teacher any time I can but when it comes to all the big events and planning, I just don't have the extra time to fit it all in.
~The "Martha Stewart" Mom: yikes! I do tend to go off the deep end when it comes to cleaning. I can't function unless things are neat and organized. I'm a little obsessive-compulsive that way and I'm truly realizing that I need to learn to let go a little. But as far as the crafty/decorative side; I don't really do well with that. I'm an artist, not a crafter. I don't know how to sew and although I do love to decorate our little home, once I fix up a room it stays that way for years. I'm not really the type to constantly be changing or updating things.
~The fun Mom? Oh how I want to be her. I try and yet I struggle. This is the area of my life where I'm constantly seeking balance. It's hard to fit in art, work and play. I do make time to play with the girls, go to the park, library, etc. We read together and I do believe that they think I'm a fun Mom. Yet I struggle with how to fit art and the rest of life into the daily alloted 24 hours. Do I sit and paint while they're playing in the back yard or do I put down my brushes and join them? It's a daily juggling show.
So....
What kind of Mom does that make me?
I'm not sure.
But maybe the best thing to do is to discover who I truly am as a Mother and accept her. Love myself as the Artist Mom I am. Let go of unrealistic expectations. All of the Moms I listed above are good people but they're not me. I don't have to be all of those things rolled into one. I only have the be me.
Hmmm. Deep thoughts for a Friday but I thought I'd share.
Happy Weekend!