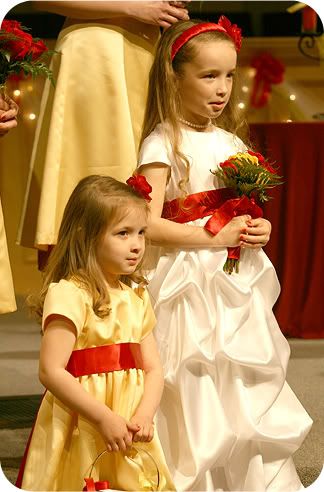 ~~Well Hello my Blog Friends!!
I can't tell you how wonderful it feels to be here on the Tuesday of Spring Break. It means that we've made it through one of the busiest seasons of life that I can remember. Yesterday I was thinking how strange it was to feel both tired and refreshed at the same time and yet that describes it perfectly.
~~My sister's wedding went wonderfully. She was a beautiful bride and she and my new Brother-in-Law are so happy. I was glad to spend time with my extended family since it's rare that we're all together at the same time. It was also an encouragement to all be together since it's the one year anniversary of my Nana's passing. After the wedding we went to the cemetery to put wedding flowers on her grave. We cried together and talked about how much she would have loved the ceremony. I was thankful that we could all be together during this time.
~~The girls and I have been enjoying the beautiful weather so far this week. We've got plans for a zoo trip and an over-night stay at PaPa and Grammy's (for them). I'm also going to work on getting back into a normal routine which includes artwork every day. My soul is craving it!
~~It might take me a bit to get back into the swing of blogging but I've been missing it!
Now....
to sort through the hundreds of pictures from the last few weeks, lol.
Happy Tuesday everyone!