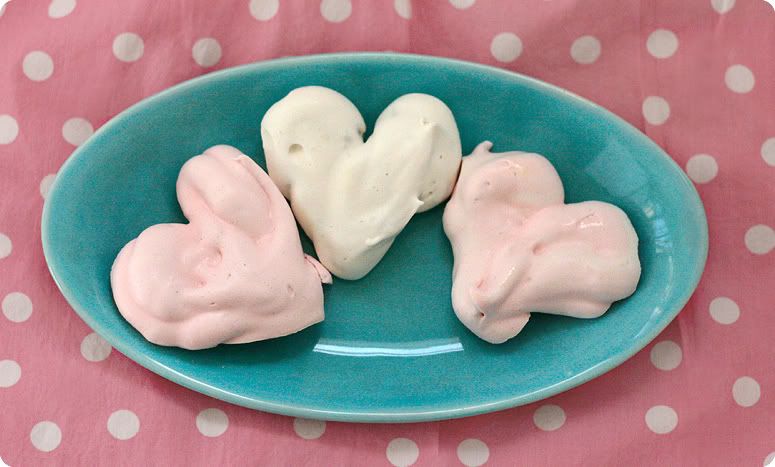 ~~I saw this idea on Morgan's blog:
One More Moore
. You can click
here
to see her adorable cookies and to read her recipe which is slightly different than mine. While you're there you should check out the rest of her cute blog.
~~Our family loves these easy egg-white cookies which we call "Forgotten Cookies." So when I saw Morgan's idea of using a pastry bag with a star shaped tip to make heart shapes I thought, "How fun! I have to try that." I went about making the cookies like I always do and without even thinking I added chocolate chips. (Like I always do.) Only when I was putting the meringue into the pastry bag did I suddenly realize that I'd made a mistake. How on earth did I expect chocolate chips to come out of the tip of a pastry bag, lol?! Duh. So I ended up taking the tip completely off and just using the open end to make hearts. Because of that, mine didn't turn out nearly as cute but I learned my lesson. I plan to try this again next week, without the chocolate chips!
Here's my family's recipe for forgotten cookies but next time I think I'll try
Morgan's recipe
to see if they come out differently:
♥~
Forgotten Cookies
~♥
~2 egg whites
~2/3 Cup sugar
~1 tsp. Vanilla
1.Preheat the oven to 350 degrees.
2.Line a cookie sheet with aluminum foil and spray with non-stick cooking spray.
3.Put 2 egg whites in a mixing bowl. (This works best with a stand mixer.) Beat until frothy.
4.Add sugar and vanilla. Beat on high until thick. (Several minutes.)
5.Drop by mounds on cookie sheet.
6.Place in oven. Turn off oven.
Do
Not
Open
oven for several hours or overnight.
Enjoy!!