~~Well, yesterday wasn't a bad day, but I did struggle a bit with the "Monday Blues." I'm not sure why but I just couldn't seem to get inspired to do any art. I got out some different reference photos and played around with ideas but nothing felt right and I think I was just in a funk. I'm determined not to carry that over to today. It's a new day and a fresh start!
~~This weekend the girls were watching the movie
Andre
. It's truly such a cute movie and I don't think I've ever heard the girls giggle so much during one show. It became an instant favorite with them. The movie is based on the true story of a family in Maine who rescued an orphaned baby seal and nursed him back to health.
~~It's set in the early 60's and I found myself totally enamored with the outfits, especially the ones worn by Toni, the little girl; sweet little sailor dresses, pinafore jumpers, maryjanes and criss-cross sandals. So stinkin' cute!! What has happened to all the cute, modest, girly, innocent clothes anymore!? When I walk in the kid's section I'm surrounded by a sea of "Hannah Montana," ugh! I really don't want my girls wearing trashy little mini skirts and blinged out tees with "Secret Pop Star" emblazoned across the front.
Nope. Not for us!
~~After seeing the movie I did a little web surfing for more inspiration and came across this site:
Heavens to Betsy Vintage
.
It's a treasure trove!
I found myself pouring over all the wonderful vintage children's patterns and wishing I'd paid more attention when my Mom tried to teach me to sew in Junior High, lol.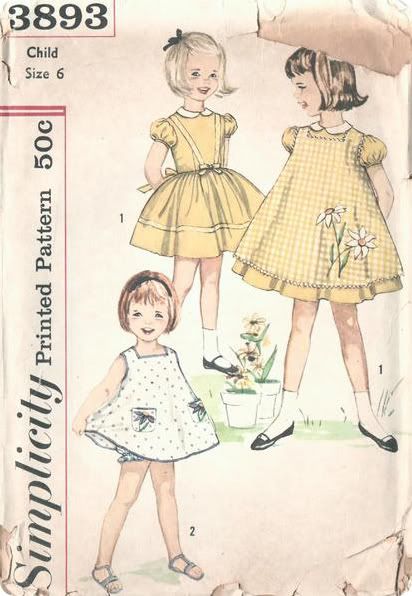 ~~So cute right?! As a girl who tends to wear jeans and a comfy sweater most of the time, I have to admit that it would be a bit fun to dress like this: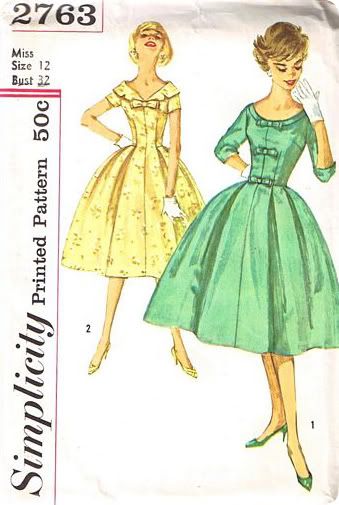 ~~All it needs is a frilly apron and some pearls.
Oh wait!
I'd probably just get paint all over it. Hmmm.
Oh well!
~~Happy Tuesday Everyone!