~~I've been busy drawing lately. I've decided to get several drawings finished before I start painting them. My head is full of ideas but getting them out in pencil form is the hardest part for me. Sometimes they seem to flow and other times it's a struggle. But I do know that I'm too much of a perfectionist and tend to fuss with a drawing a bit too long sometimes. So I've decided to challenge myself. The painting is my favorite part so once I've gotten a few drawings ready I should have a fun week to look forward to.
~~I've been very inspired lately by paper dolls. Old, new, all styles. I can remember playing with them and my girls have the modern day magnetic versions (which is such a great idea!) So I'll leave you with a little eye candy on this Thursday afternoon.
***For Elise: The answer is "Yes!" I'm really hoping to. I have lots of plans and ideas and am working my way through them. There's a lot I need to do to be ready for that but I'm taking baby steps every day. Thanks for your encouragement and enthusiasm!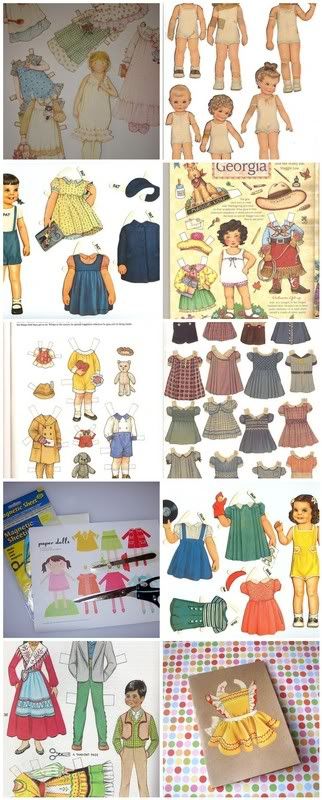 1.
Holly Hobbie Paper Doll
, 2.
Queen Holden Paper Dolls 2.
, 3.
pat 1
, 4.
Ann Estelle Paper doll Georgia 5
, 5.
Sew Beautiful paper doll justin 2
, 6.
Queen Holden Paper Dolls 3.
, 7.
Ingredients for Magnetic Paper Dolls
, 8.
pam 1
, 9.
Vintage Paper Dolls ~ Portugal Costume
, 10.
Vintage Paper Doll Note Cards