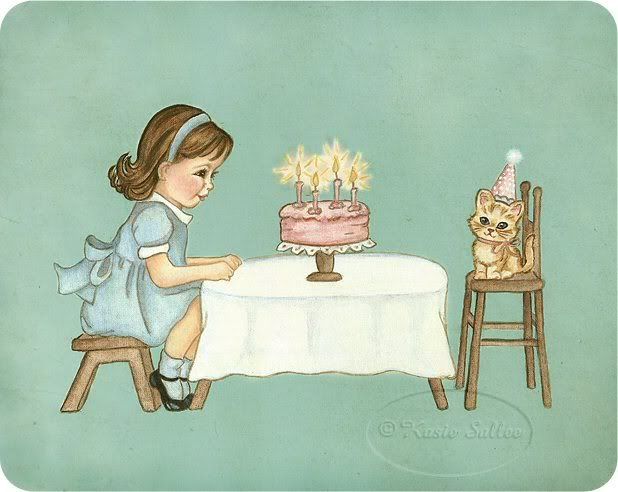 (Click to see a clearer image.) Copyright 2009 & Beyond~Kasie Sallee~Please do not use without permission.

~~Happy Monday Morning!
~~Our little Savannah bird's birthday is coming up soon and thinking of that was the inspiration for this piece. I'm having so much fun working on these vintage-style illustrations! It feels good to stretch myself and try something a little different. Both girls really love this one and gave it their stamp of approval with lots of squeals and giggles. That was all I needed! I hope you all like it too.
~~There are lots of plans for this week. I've got some painting to do...
but not the kind you're thinking. This week I'm going to be painting the girls' room. It's something I've been needing to do for quite a while. The room was originally Sierra's baby room and I spent weeks painting vintage style Winnie the Pooh murals. (I'll look for some photos.) When Savannah came along she slept in a crib in our room. When little Sis out-grew her crib we bought bunk beds and now the girls share a room. We had fun picking out a Hawaiian theme and getting bed spreads and decorations to turn it into a "Sister room." That's been close to a year ago and sadly, the Winnie the Pooh walls are still there. (I think Mommy's having a hard time letting them grow up!) Sierra has mentioned many, many times how they're too old for Winnie the Pooh and I know she's right. On top of that it looks a bit strange being half-Hawaiian, half-Pooh! So, I've got plans for new walls and it's time to get to work! No more excuses.
~~Well, here's to a productive week!