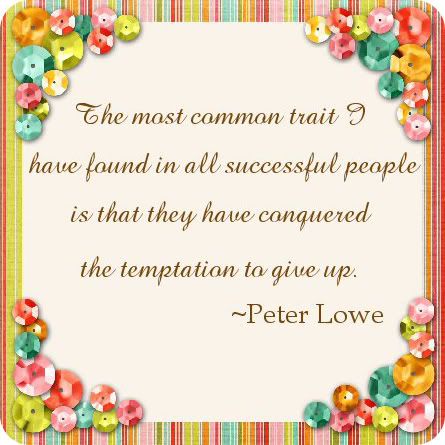 ~~"Bubblelicious" kit by Zoe Pearn found here.
~~I've been reading "
Talent is Never Enough
" by John C Maxwell. It's such a good book; very thought-provoking and full of inspirational quotes and stories. I'm a bit of a quote collector myself so it's right up my alley. This quote in particular (pictured above) has been sticking in my mind. We all face the temptation to be hard on ourselves; To tell ourselves the lie that we're just not good enough at whatever it is we dream of doing. But the truth is that we don't have to be perfect now, we just have to keep going. Isn't that encouraging?! Maybe it's the Momma in me but I can't help but picture "The Little Engine that Could", lol.
~~Well, I've got to run. Today is the first day of Savannah's music lessons. She is so excited. Savannah has always been our little songbird. She used to wake us up by making little sing-songs in her crib. Even today she is known to break out into song all throughout the day. So when I found out about the brand new preschool music classes that are just a few minutes from home I knew it was something we had to check out. I'm anxious to see what she thinks about it.
~~I'm very close to being finished with another illustration; a Valentine themed one this time. I've been having so much fun with it and hope to be able to share soon.
~~Happy Wednesday!