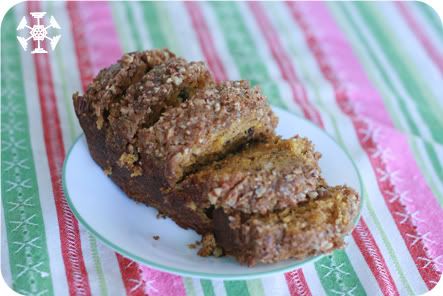 ~~I am
seriously
having art withdrawal people! Which is honestly a good thing. A year ago I was still struggling with so much fear and uncertainty with my art and now I want to paint
all the time
!
I've been getting a lot of things done; Christmas shopping is almost finished and wrapped. Birthday plans have been made for our soon-to-be 7 year old munchkin. (Oh my goodness! When did she get that old?!) I've been busy getting things ready for our trip.
It's not like I've been sitting around being lazy....
But it's still driving me crazy!
~~So, if you know me even a little bit than you know my way of satisfying the creative itch is to bake. (Why do you think I have to run so much, lol?!)
I posted a
pumpkin bread recipe
last year and it's good....
but this one is
much
better.
I found it on the Pillsbury website
here
.
Pumpkin Pecan Loaf
**I'm posting the original recipe from the website but I made one change. The first time I followed the directions and used a 9 x 5-inch loaf pan but was having problems getting it to cook all the way through in the middle. The next time I made the same amount but baked it in 4 mini loaf pans and lowered the baking time to 45 min. (Yes, it's so good that I've already made it twice.)
Ingredients:
Crisco® Flour No-Stick Spray
1/2 cup Crisco® Light Olive Oil
1 1/2 cups sugar
2 large eggs
1 cup solid pack canned pumpkin
1/3 cup milk
1 1/2 cups Pillsbury BEST® All Purpose Flour
1 teaspoon baking soda
1/2 teaspoon salt
1 teaspoon ground cinnamon
1 teaspoon ground ginger
1/2 cup chopped pecans
TOPPING
1/2 cup chopped pecans
1/4 cup firmly packed brown sugar
2 tablespoons Crisco® Light Olive Oil
Preparation Directions:
1. HEAT oven to 350°F. Coat 9 x 5-inch loaf pan lightly with flour no-stick cooking spray.
2. STIR olive oil and sugar together with spoon. Stir in eggs until blended. Add pumpkin and milk. Combine flour, baking soda, salt, cinnamon and ginger. Add to pumpkin mixture, stirring until well combined. Stir in 1/2 cup pecans.
3. POUR batter into prepared pan. Combine 1/2 cup pecans, brown sugar and olive oil until mixed and crumbly. Sprinkle over batter.
4. BAKE 55 to 60 minutes or until toothpick inserted in center comes out clean. Cool 10 minutes. Remove from pan.
Yum! This would go great with some
Wassail
or a
Pumpkin spice cappuccino
. Enjoy!
~~We're off to a triathlon club Christmas party tonight. I've always teased my Hubby that he and his
tri buddies
are all a little obsessed and crazy about their sport.
But you know what? I get them. I truly do.
Racing is his painting.
~~Happy Tuesday!