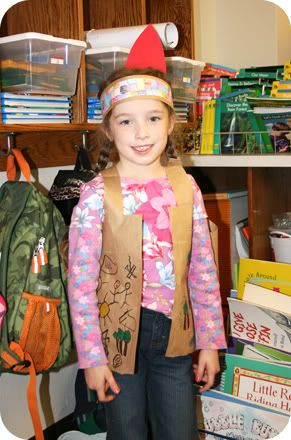 ~~As parents filed into the colorfully decorated 1st grade classroom, the kids were abuzz with excitement. They giggled and whispered and shuffled into their places. For days they'd been preparing for the play; learning songs and lines and working carefully to turn paper grocery bags into the most authentic Pilgrim and Indian costumes they could manage. I have to admit that my little papoose was looking super-cute with her braids sticking out of her construction paper headband. I couldn't help it if my heart swelled.
~~After a little shushing and quieting the teacher introduced the program and the kids filed to the front of the room. They sang their songs with much gusto and the half embarrassed, half proud smiles of 6 year olds. After the singing, everyone found their seats and the children took turns coming up in pairs to recite lines. Some spoke loud and slow while others quickly rushed through but all together they told the story of the first Thanksgiving. When it was Sierra's turn to speak, she and her partner did a great job but were concentrating so much that they covered their faces with the papers, lol...... And I know for a fact that she knew her line by heart. She was just embarrassed by the crowd.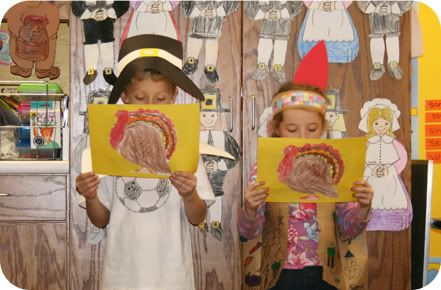 ~~When the play was over and the kiddos had basked in the applause, it was time for the feast. Parents had brought in all sorts of goodies and the kids were allowed to choose 5 items from the table. I watched in amusement as most passed by the homemade apple crisp, pumpkin bread and muffins and headed straight towards the large store-bought iced sugar cookies.
***Note to self: Mommas shouldn't try so hard!
We headed home that afternoon and my heart was full.
~~This morning I woke up early to fix Dustin some coffee as he headed out for his last workday this week. (Yay for the 4 day weekend!) When he was gone I curled back under the covers and was soon met by two little munchkins, crawling into bed with me. For a few minutes it was bliss as I listened to soft breathing with little arms and legs wrapped around me. Ah, but the bliss was not to last and was soon replaced with "She's tickling me! She's poking me! I can't snuggle Mommy cause she's in my spot!"
I ended it all with
"Who wants breakfast!?"
Nothing like toaster waffles and Sunny D to make everyone happy.
~~Today we're off to run a few errands, have lunch with Daddy, and then back home to start the baking. My duty is rolls; lots and lots of rolls.
In my opinion you can never have too much warm bread!
~~Happy Wednesday Everyone!