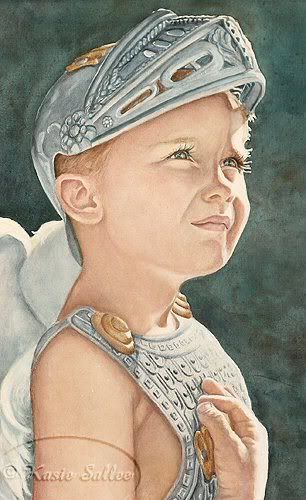 (Click for a clearer, larger view.) "Courage" Acrylic on Watercolor Canvas~16" x 20" ~Copyright 2008 and Beyond ~Kasie Sallee~~Image may not be used in any way without permission.~
~~The name of this little angel is "Courage." He's been in my mind for a long time so it feels incredibly good to have him out and on the canvas. One of my cutie-pie nephews modeled for me and did a great job. It was pretty much exactly what I had in mind.
~~Joshua 1:9 was the inspiration for this piece:
"Be strong and of a good courage; be not afraid, neither be thou dismayed: for the LORD thy God is with thee whithersoever thou goest."
While I was working on him I also began to think about Ephesians 6:
"Wherefore take unto you the whole armour of God, that ye may be able to withstand in the evil day, and having done all, to stand."
~~Even though the word "Courage" is a noun, I think of it more as a verb, something that we do. Sometimes it's hard to be courageous. Actually, it's difficult pretty much any time we're facing down our fears. But facing those fears is what enables us to grow. Eleanor Roosevelt said,
"You gain strength, courage, and confidence by every experience in which you really stop to look fear in the face. You must do the thing which you think you cannot do."
And
Faith
is what enables us to have that courage. When we trust that God will never leave us nor forsake us we can go boldly forward.
~~I'm feeling very encouraged today. Last week I was feeling overwhelmed. I needed a little bit of courage myself!
~~Thanks so much for letting me share.