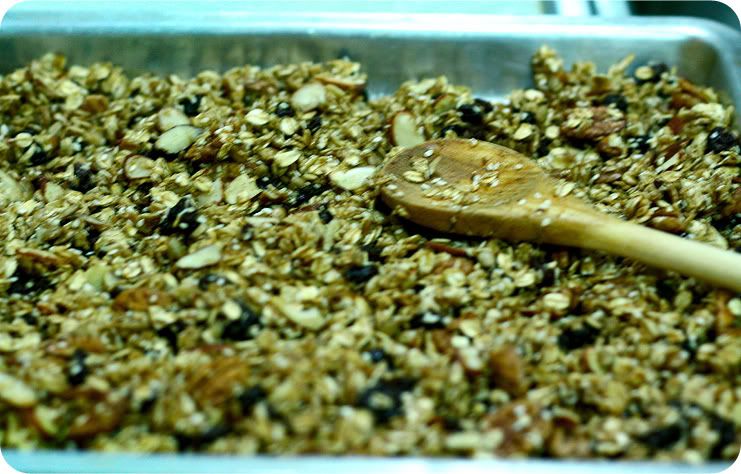 ~~Last week I stumbled onto Molly aka "
Orangette's
" blog. She shares stories about life and her passion for good food, along with the recipes. When I saw the recipe for her "
Daily Granola
" I knew it was something I'd have to try. Dustin loves granola. In fact he eats it almost every day. So on my next outing I gathered all the ingredients and came home excited to put it all together.
~~It was not a disappointment at all. The house smelled so yummy while the granola was baking and when it was finally done we could hardly keep our fingers out. Ever since baking it I've had granola at least once a day. In fact I just finished up a bowl with a little
Greek yogurt
. Yum!
So of course, I have to share.
~~You can click
here
to see what Orangette says about the granola and also to check out her really cool blog. I'm definitely going to be trying more of her recipes.
Dry ingredients:
5 cups rolled oats
1 cup almonds
1 cup pecans
1 cup hulled raw sunflower seeds
¾ cup sesame seeds
¾ cup light brown sugar
2 tsp. ground cinnamon
1 tsp. ground ginger
1 tsp. salt
Wet ingredients:
¾ cup unsweetened apple sauce (I only had the sweetened cinnamon kind but it worked great.)
1/3 cup brown rice syrup (I had to go to our local health food store to find this.)
¼ cup honey
2 Tbsp. vegetable oil, such as canola or safflower
***Something that I did differently from Orangette: I soaked 2 cups of raisins in hot water for about 10 minutes. Then I drained them and dried them on paper towels. I added the raisins in with the mixture before baking.
Set racks in the upper and lower thirds of the oven. Preheat the oven to 300°F.
In a large bowl, combine all of the dry ingredients. Stir to mix well. In a small bowl, combine all of the wet ingredients. Stir to mix well. Pour the wet ingredients over the dry ones, and stir well.
Spread the mixture evenly on two rimmed baking sheets. Bake for 35 to 40 minutes, or until evenly golden brown. Set a timer to go off every ten minutes while the granola bakes, so you can rotate the pans and give the granola a good stir; this helps it to cook evenly. When it's ready, remove the pans from the oven, stir well – this will keep it from cooling into a hard, solid sheet – and set aside to cool. The finished granola may still feel slightly soft when it comes out of the oven, but it will crisp as it cools.
Scoop cooled granola into to a large zipper-lock plastic bag or other airtight container. Store in the refrigerator indefinitely.
Mmmmmm. Enjoy!
Happy Friday everyone.