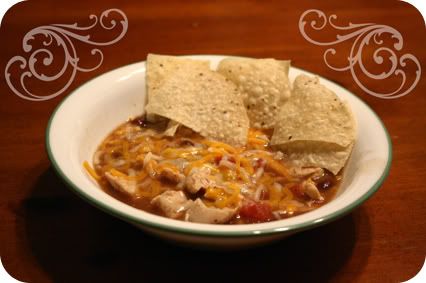 ~~A hearty, delicious soup that will fill you up on a cool Fall evening. I like to put this in the crock pot and let it warm through all afternoon, filling the house with aroma.
Chicken Tortilla Soup
~1 (14.5 oz) can diced tomatoes (undrained)
~3 cups chicken broth
~1 1/2 lb diced cooked chicken breasts, seasoned w/chili powder
~1 can corn (undrained)
~1 package red beans and rice prepared. (I like Zatarain's)
*Combine tomatoes and broth in large pan. Boil.
*Add chicken & corn. Reduce heat and cook about 7 minutes.
*Add prepared rice and beans.
(Another way to prepare is to put all ingredients in a slow cooker and let heat through on low setting.)
*Serve with tortilla chips and shredded cheese.
*Enjoy!