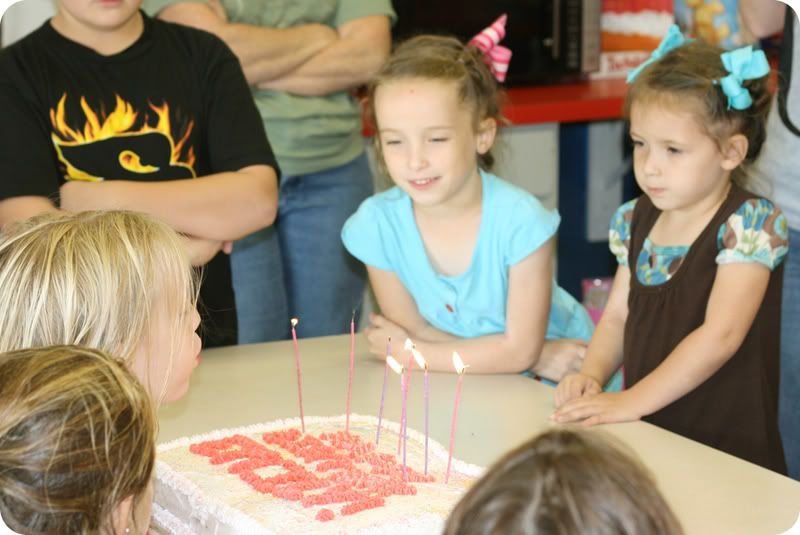 ~~This weekend the girls and I went to a birthday party. It was the 7th birthday of Sierra's very best friend. They've known each other since they were 2 1/2 and the whole family is dear to us. A couple of years ago they moved about 2 hours away; not so far that we can't visit but still too far for our liking. Dustin's cough hadn't gone away on Saturday so we decided that it would be best if he didn't expose everyone. But it also made him nervous. You see, I have the world's worst sense of direction. You can try to argue with me on this but I have people to back me up. It's not that I don't try. I do. But my internal compass is a little mixed up.
Strike that.
I'm not sure if I even have an internal compass.
~~Anyways, my poor Hubby was quite a bit nervous about sending his two off-spring and his directionally-challenged wife on a two hour trip to a place we hadn't been before. He had visions of me ending up in Missouri somewhere. So he asked to borrow his brother's Garmin gps.
~~Now, I'd heard of these little gadgets. I knew they were a good idea. But until Saturday I didn't know how much
I need one
! I felt like I had a partner with me every step of the way. Not only that, but it would tell me in advance of upcoming turns and even showed my estimated arrival time. When I realized how easy this was going to be I relaxed and enjoyed the journey. The cool thing about the gps is that it's going to do everything it can to get you to your destination. If you happen to get off on the wrong path it will recalculate and give you a new route to get there. Awesome.
We arrived at the party early...
and unfrazzled.
~~As I was thinking about how neat the gps was I felt like God was whispering in my ear.
He can be my direction-giver, my companion on the journey, my gps for life. How often do I go about my day on my own strength? Oh, I look at my map (Bible) and I know the general direction that I need to be going. But then I just take off going full-speed through my day, hoping I'll end up in the right place.
~~I've looked at Mapquest before, Dustin shows me routes on Google Earth, but the problem with those things is that I can forget. The gps stayed with me the entire way.
~~I felt like God was reminding me that I need to take time to ask Him for help throughout the day. I need to remember to check in with my gps in the middle of the journey, not just by glancing at the map once or twice in the morning.
~~Now I do wish God's voice was as clear as the navigation system. Something like: "You will need to make a big decision in 4 days and you should
fill in the blank.
" That would be great. But God doesn't really work that way. Instead, He wants us to keep our hearts in tune with His so that when the time comes we'll be able to know the best choice instinctively. And when we do make a wrong turn, He'll be there to recalculate our path and get us back in the right direction.
~~The encouraging thing is that no matter how busy the path, no matter how many twists and turns there might be, I don't have to face it alone. He's already there. It would've been incredibly dumb for me to simply ignore the gps on the way to the birthday party. I can guarantee you that I wouldn't have gotten there so easily (if at all!) In the same way I shouldn't ignore my Heavenly gps by trying to face the day on my own. I might end up somewhere crazy, like Missouri.
Just kidding. ;)
~~Hope everyone has a great start to the week!