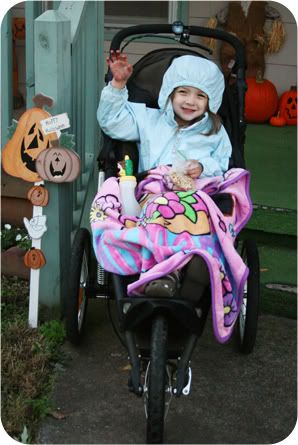 My morning run buddy
AKA "The Coach"
I just noticed her little hands are dirty from touching the wheel, lol.


~~Our week has started off with a beautiful morning. Savannah and I just got back from our 3.3 mile run at the park. I love the Fall. The air is crisp but not too cold. On Monday, Wednesday and Friday Sierra has "walking day" at school. The kids have the option of coming early and walking laps to earn prizes. You'd be amazed at how many bright-eyed little kiddos are out early, happily speed-walking around the playground. It just reinforces my theory that you can get a 1st grader to do just about anything by offering them a "prize." I got a note from her teacher the other day saying that Sierra had already walked 5 miles! That amazes me.
~~Anyways, Savannah and I have been going to the park and running the trails on Sierra's walking days. Savannah loves it. Today we saw a flock of Canadian geese swimming in the pond, lots of busy little squirrels, a pretty charcoal colored cat, and a group of wild turkeys!
~~I call Savannah my little coach. As I'm going along she'll say, "Faster Mommy, Faster!"
or
"Slow down Mommy. Take a drink. Okay, now go faster, faster!"
Hmmm. Easy for her to say all tucked up in a blanket, eating cheerios, lol.
~~For anyone who thinks my running is something special, it's not. For one thing I'm not fast.
If you want to see speed you can watch my Hubby race.
That's fast!
As much as I would like, I don't have any athletic talent. I'm actually quite clumsy. A regular "graceful Gertie."
But I enjoy running and I feel better when I get exercise. So one of my 28 things while 28 is to be more consistent with a running routine. That gets harder as the weather gets colder but I'm sure going to try!
~~Well, the morning is moving along and I've got a list of things to get started on. Thanks so much for all the birthday wishes. I had a great weekend!
~Happy Monday everyone!