~~Just popping in to say that I'm still alive! I have to admit that this last week I've felt a bit overwhelmed. There've been times when I've felt like I'm doggie-paddling as hard as I can just to keep my head above water. It seems like there's so much more to do than there are hours in the day and so much that I need to remember. Sigh.
To make things worse I've been having a hard time getting any painting in even though I'm craving it so badly.
~~But today I feel like I've had my batteries recharged. Dustin took the day off from work because he's been battling a cold/cough all week. He's actually doing so much better than he was earlier in the week, but they didn't really need him today and he knew that he could use some rest. So he and Savannah played legos and had fun hanging out together while I painted...all day!
Happy sigh.
Now I feel like I can think again. Life is still super-crazy-busy but when I've had time to still my heart and mind, then I have the strength to face the challenges.
I ♥ October! It's my favorite month because it's the start of Fall.
So in the spirit of the season, I thought I'd share a couple of yummy Fall recipes.
Banana Nut Pancakes


*1 Cup pancake mix
*1 Tbs sugar
*1 egg
*3/4 Cup milk
*2 tsp vegetable oil
*1 medium ripe banana, mashed
*1/2 Cup chopped pecans
(This yields 2 servings. I always double the amount for my family.)
1. In a mixing bowl combine the pancake mix and sugar.
2. In another bowl beat egg, milk and oil. Add to pancake mix and mix well.
3. Fold in banana and pecans.
4. Pour batter by 1/4 cupfuls onto lightly greased hot griddle; turn when bubbles form on top of pancakes.
5. Enjoy!
Pumpkin Spice Cappuccino
Just as good as Starbucks. Seriously! And a whole lot cheaper, lol.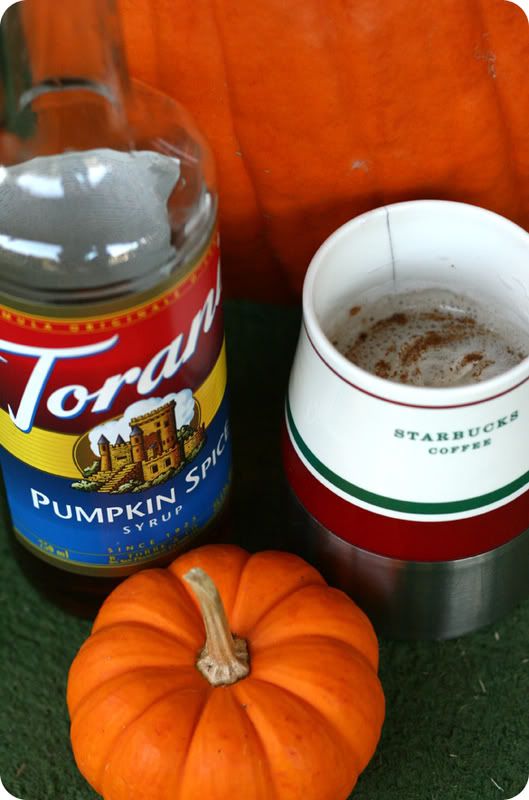 1. Make 1 serving of espresso.
2. Pour in mug and add sugar to your taste. (I use 2 packets of French vanilla Splenda.)
3. Heat and froth 3/4 Cup of milk and add to espresso.
4. Add 1 ounce of
Torani Pumpkin Spice syrup
. (I found mine at our local coffee shop/drug store.)
5. Top with whipped cream. (I'm loving the new Cool Whip in a can. Too cool.)
6. Sprinkle with Pumpkin Pie spice.
7. Savor slowly.