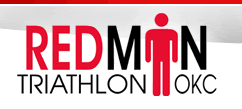 ~~I'm late sharing this. The end of our week has been a bit tough. Savannah had to go to the doctor yesterday for a bad cough and runny nose and I started feeling a bit under the weather yesterday. Thankfully Savannah slept all night last night.
~~Today is the big day.
The
big race. The one Dustin's been training for for months.
It's the RedMan Triathlon: Oklahoma's IronMan. Dustin is doing the 70.3 (or half.)
Swim 1.2 miles, Bike 56 miles, Run 13.1 miles.
~~I have to admit that I'm very nervous. I have every bit of confidence in him. I truly do. It's just that we have some bad history with this race. Two years ago he got hypothermia from the water and was very, very sick for a week. I still remember how I felt when I got the call from the medic tent. Back then he said, "Never again," but I know my husband too well. He'll never let anything defeat him. So, two years later we're here again.
~~If you happen to read this in time I would appreciate prayers for him. He'll be starting at 7:20 am and probably won't finish until around 1:00 pm (Central time.) If you go to
www.redmantriathlon.com
and click on "Track an Athlete" you can actually track his progress (Dustin Sallee) during the race. Pretty cool.
~~The girls and I will be getting around here pretty soon to head to the race. (Despite this pesky head cold I'm fighting.) I have to be there to cheer him on. I know he's going to do great this year and we'll all be celebrating this evening. (That or crashed on the couch from exhaustion, lol.) I think sometimes his races make me as tired as he is.
~~Updates and pictures as soon as I can!