~~Still working on a lot of catching up; you know, the never-ending piles of laundry that come after vacation, lol.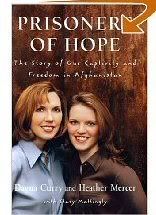 On the way home, Dustin and I started reading the book
"Prisoners of Hope.
" It's the story of the capture in Afghanistan of two Christian aid workers Dayna Curry and Heather Mercer. We're both totally taken in by the book and can't wait to finish it. It truly has me thinking very deeply about what a blessing it is to have the freedoms that we do. And how often we take them for granted. It also makes me think, what am I doing to live for God and show my gratitude to Him daily? Even though we haven't finished the book I still highly recommend it.
~~And that leads me to this song. My heart echoes the words.
I want to live a passionate life for God.
" 'Cause just okay's not enough."