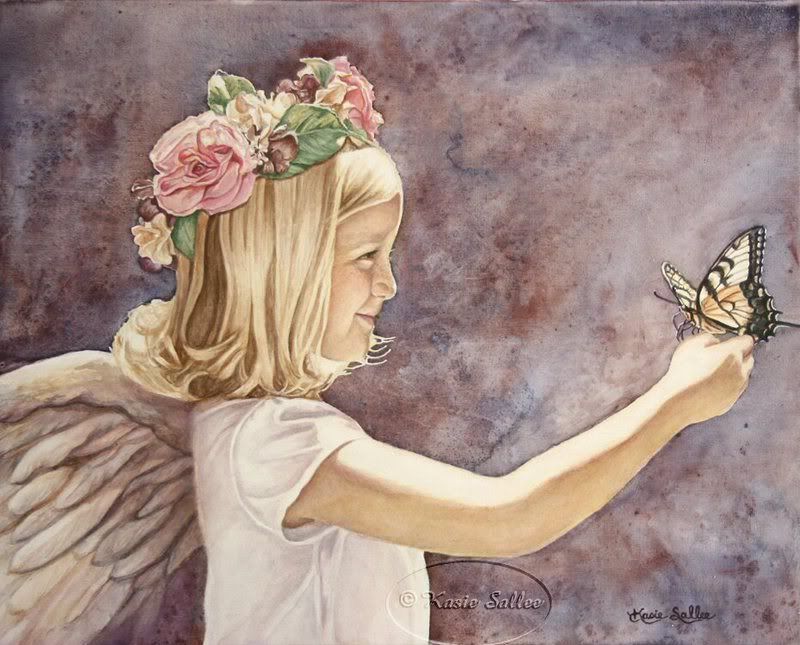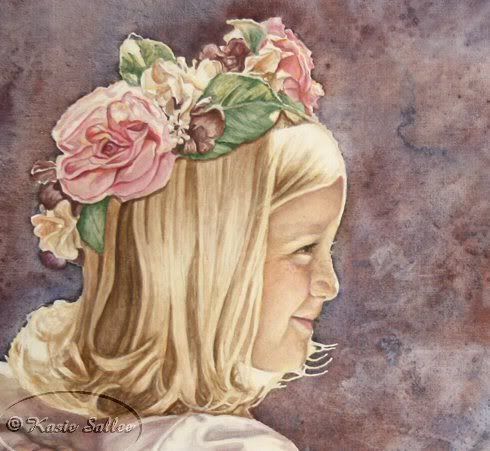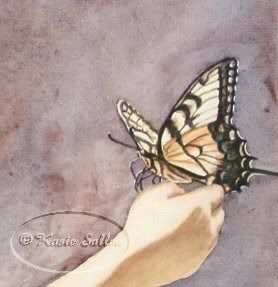 (Click for a clearer, larger view.) "Hope" Acrylic on Watercolor Canvas~16" x 20" ~Copyright 2008 and Beyond ~Kasie Sallee
~~Well, I promised a sneak-peek but I couldn't get myself to stop working. So instead of a sneak-peek I have something better; a finished piece. Yay!
~~This is the third angel in my Little Angel series. (The other two are "
Peace
" and "
Gentleness
.") This little angel's name is "Hope."
~~To me butterflies are a wonderful symbol of hope. They start life in such a lowly state and then go through a time of darkness while in the cocoon. But we all know the end of the story; the butterfly emerges with beautiful wings, ready to fly.
~~This piece, I feel, has two meanings. The first is the hope of the new life we can have through Christ. We too can be reborn like the butterfly when we realize our helplessness and ask Him to come into our lives and change us. If God loves to turn ugly little caterpillars into beautiful butterflies, how much more does He rejoice to turn His children into new hope-filled creatures?
~~The second meaning is the hope of making it through a difficult trial in life. Like the caterpillar we've all been through dark times when we feel trapped with no way out. This piece is encouragement to hang onto hope. Brighter days are coming and when you emerge from your trial you will be a stronger, more beauty-filled person because of it.
~~I thoroughly enjoyed working on this piece although it was a new challenge. I'm used to painting my little brunettes so the beautiful white-blonde hair of my model was very new. It felt good to stretch myself though.
~~Some other fun news to share is that I placed 1st in the Oklahoma State Fair with my "
Gentleness
" piece. That was a nice surprise!
~~Well, Fall is in the air and I'm loving it! I'm hoping to freshen up the house a little today. Savannah and I picked up some mums and a pumpkin for our front porch this morning and this afternoon I'm out in search of a Fall-scented candle. I just finished making some
Strawberry-Pretzel icecream
for an icecream social we're going to tonight. Fun!
I'm ready for the weekend!
Have a great one everybody!
Edited to add: Just wanted to share an awesome give-away going on. My friend
Lexy
is an amazing artist. She's having a contest and you have a chance to win a board-mounted canvas giclee of one of her beautiful pieces when you leave a comment. So hop on over
here
and show her some love.