~~Hmmmm. I've been a pretty bad blogger! I've been having those types of days where you feel like time is speeding by and you're rushing along behind, trying to keep up.
Last week was the big kid's consignment sale. I had to get all my things ready and then I volunteered on Thursday before the big "Pre-sale."
Crazy. Crazy. Crazy.
Oh the things we'll do for our kids! I'm not a crowd person or a shopper and I'm actually quite claustrophobic. So putting myself in the middle of a bunch of manic Mammas, crowded into a small space, toting laundry baskets and grabbing clothes like banshees.....
Lol.
Only for my munchkins.
~~This weekend my super-awesome Hubby installed a new kitchen sink and faucet. We live in an old home and the one we had before was one of those super-heavy ceramic beasts of a sink. I would scrub and scrub and could never make it look nice. Now we have a beautiful stainless steel one and I can finally shine my sink "a la
Flylady
."
~~Here are a couple more pictures from our trip.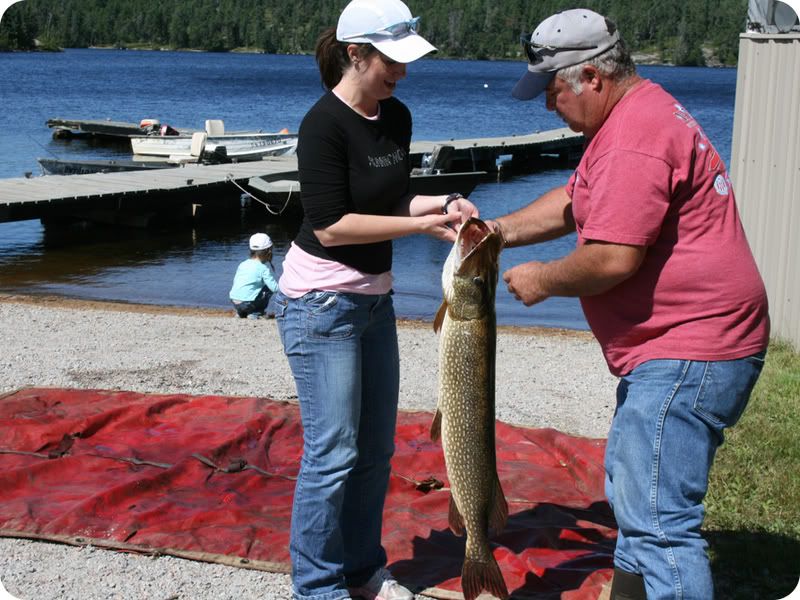 This year I snagged the biggest fish I've ever caught in my life; a trophy Northern Pike. He was 40 1/2 inches and 24 pounds! We were trolling behind the boat and I thought that my lure had gotten hooked on a rock. Dustin backed the boat up and just as I got to my lure it took off! My heart jumped. It wasn't a rock. It was a fish! It took quite a bit of tug-of-war before I got him high enough to see. Then my heart really started beating fast. He was a Grand-daddy of a fish. When he was finally in the boat I jumped up and shouted and got a "high-five" from Dustin.
~~Northern Pike have such a prehistoric look. They just feel old. The one I caught is what they call a "moss-back" because he was so old that moss was growing on his back! He's estimated to be about 15 years old.
~~Well, it's Savannah's quiet time and hopefully I can get some more painting in today. I'm about 3/4 of the way done on a new angel painting and if I can get a little farther I might post a sneak peek. (If Miss E's Momma is reading this; yes it is the painting that you're hoping!)
Time is flying off again.
Happy Monday!