~~A lot of things have been trying to knock me out of my groove lately.
Trying very hard.
But I'm just
not
going
to
give
in
.
Through it all I still have an overwhelming feeling of gratitude for the fact that
God
Is
Good
. (Even when people and situations aren't.)
~Someone hit our truck in the middle of the night a few weeks ago, left major damage, and then drove off. (We suspect that they were drunk. How else do you hit a parked car that hard?!)
~Someone stole my debit card information and went on a shopping spree.
~My bank treated me like a criminal and acted like it was my fault. I was so insulted and embarrassed and now I'm in the process of changing banks.
~I had to take Sierra to the doctor Monday for a condition she's been having for a while. (My poor girl!) It was a long afternoon and she had to have an x-ray but thankfully we learned that it's not too serious and is treatable.
~Uggg. I could go on but I'm going to stop there.
Because you know what?
My list of blessings is much, much longer:
~Our car insurance company was very nice and helpful and we've already received the check. The fact that my husband is an Autobody technician is also helpful. :)
~Sierra's problem
was
treatable and should be cleared up by school-time. So many families have children with untreatable or very serious conditions. They deal with struggles and difficulties every day. I'm so thankful that we have two healthy children.
~We found out today that Sierra got the teacher we were really hoping for. I've heard only great things about her. We also learned that her cousin will be in the same classroom which will be fun for them both.
~God has been opening up new doors and opportunities for me with my art. Dustin and I have had the blessing of meeting someone who is very knowledgeable in the business and he's been so helpful and encouraging to both of us.
~And I could go on...
So I will choose to look at the blessings and muddle through the frustrations. It's just been hard to know what to write on here lately. My art time has been very sparse, which always gets me a little down and even though I've done some sketching and prep-work, I don't really have anything that's worth posting. It can be so difficult to balance art and family but my girls always come first to me. We only have 2 more weeks left of summer and I want to enjoy the time I have so I'm not going to be so tough on myself. I had been trying to stay up late to work but then was paying for it later. I know that I'll be able to get more done once school starts again and we're all back in a routine.
~~Here are a couple of pictures from our trip to the children's museum a week ago. We all enjoyed it. I'm so thankful for these two little blessings in my life!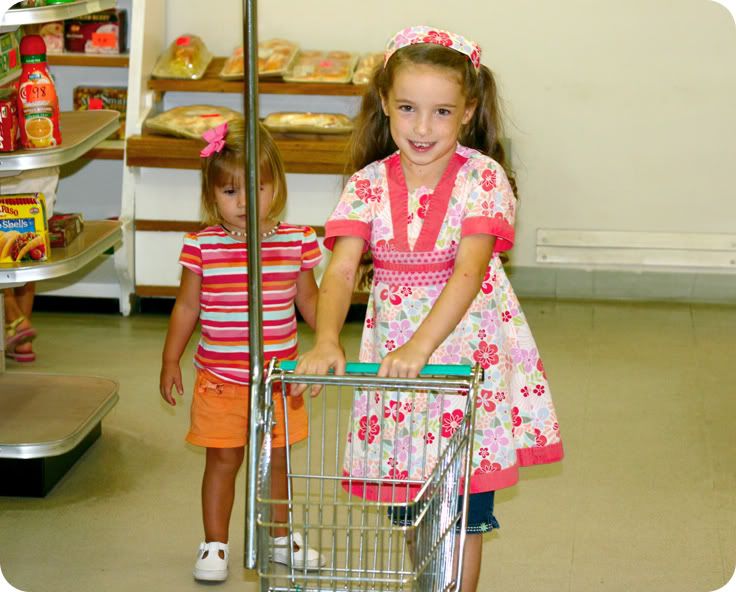 ~Okay. I just re-read over this post and I realized that it makes me seem like I'm a better person than I am, lol. I'm
so
not perfect. I wrote about being thankful as a way to remind myself of my blessings. My human nature would rather just curl up in a ball and cry sometimes, lol.