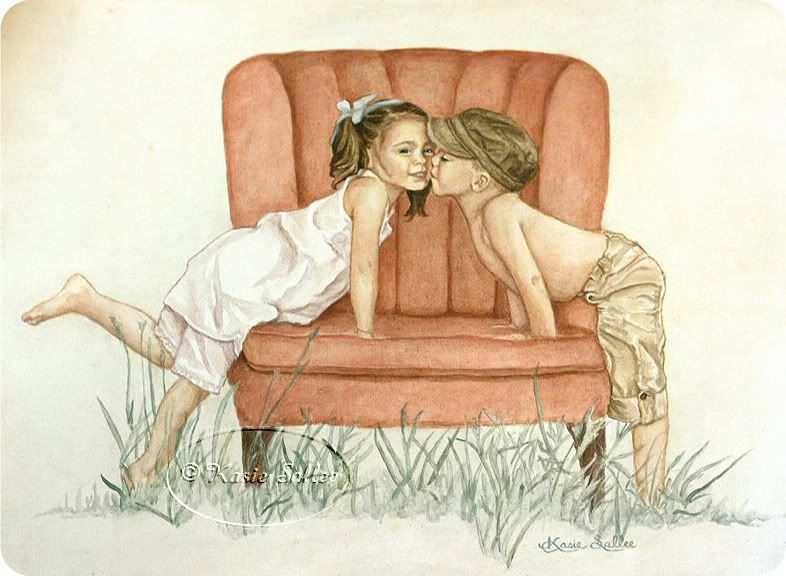 Click to see larger. Copyright 2008 & Beyond~Kasie Sallee
~~I can't think of a better way to start the Holiday weekend than by finishing up a piece of artwork. Yay!
I'm about to pull my hair out trying to get an accurate photo of this. I have no idea why it's so difficult. And it's too big to fit my scanner. So, this is the best I could get for now. I also always worry that the color on my monitor could be off and you all might be seeing this completely differently.
~~Please trust me when I say that it looks better in real life. The chair is more of a pinkish-peach. There are colors in the skin and clothing that aren't showing through. And the entire thing looks softer, with the shadows not so harsh.
(Lol, big promises, huh?)
~~I haven't decided on a name for this yet. It was based off a photograph that my talented Sis-in-Law took of Savannah and my cutie-pie nephew. It's 12"x16" and was done on a watercolor canvas sheet. That was a bit of a challenge because the canvas wanted to buckle. My
mentor
always says to never paint a face smaller than the size of an egg. So what did I do, lol? I painted two faces about the size of quarters. That was very, very tricky and challenging.
~~I wanted to try and see if I could do a piece with the feel of a vintage illustration while still retaining my own personal style. And over all I'm pretty happy with how it turned out.
~~So I hope that all my American friends have a wonderful 4th of July and that my friends around the world have a wonderful weekend as well!
I'm off to get ready to grill!
ETA: I was playing with some of
Shabby Miss Jen's
fun stuff. I thought this was cute.