~~Last week was fun; busy and full of life. The girls
loved
Vacation Bible School. We had a swimming playdate with some friends on Wednesday. Thursday evening we had a cookout at our house for my Dad's birthday. It was so nice to hang out as a family. Saturday we woke up early and drove 2 hours to visit and stay with some dear friends of ours. Their daughter and Sierra have been Best Friends since they were 2 1/2. They moved about a year and a half ago and we've really missed them! Sunday morning Dustin had a race. It was a triathlon but he did the "Land-lover's" division which was the bike and run only. It was a 40K (24.9 mile) bike and a 10K (6.2 mile) run. It was a hard, hard race; uphill and into the wind most of the way. (
Just a bit of trivia: Lance Armstrong competed in this same triathlon and won when he was 15 years old!
)
Dustin did awesome and placed 1st overall in the Land-Lover's division. That was an exciting way for him to spend Father's Day.
~~I'm almost certain that I'm finished with my painting. I'm sitting with it for just a bit though because there's one part that I'm not completely certain about. It's stormy and rainy today so I'm going to wait to post final pictures when the light is better.
~~It's a rainy, quiet Tuesday which is nice. I'm just enjoying staying in with the girls and getting some things done.
Coloring encouragement on the path for Daddy.
Happy Father's Day!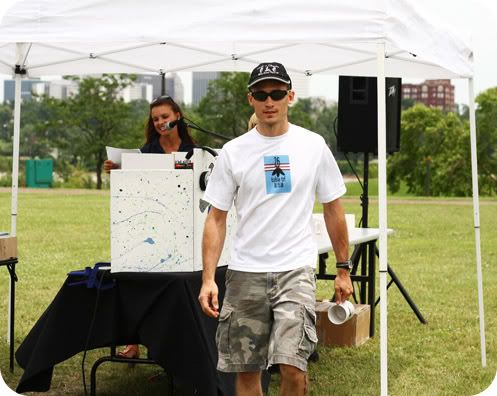 Awards ceremony: Isn't he handsome! ;)