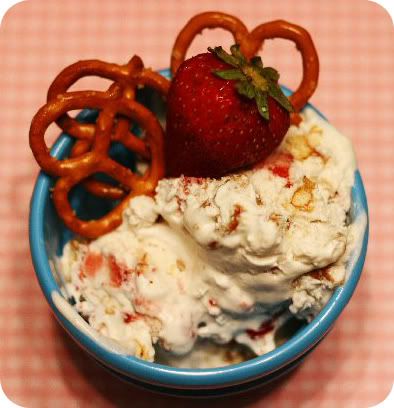 We made Heather Bailey's Home-made Strawberry Pretzel Icecream last night. Oh My Goodness!! It's the Best icecream ever! Recipe here.


~~I was going to start this post by apologizing for not having blogged in so long, but then I thought...
You know, it's Summer. And I'm sure everyone understands how crazy busy and fun summer can be. If there was some way to download my thoughts straight to the computer, then I would post so often that you'd probably be tired of me. I'm always thinking of great things to post but then I have those thoughts in the middle of doing dishes, folding laundry, grocery shopping, etc.
~~I seriously over-estimated how much art I thought I could get done during the Summer-time. But then again I know that this time is so short and I want to enjoy it completely. So if you'd like to have a summary of our last few weeks, here it is:
Flip-flops and painted toenails, Splashing and swimming, Cute little brown braids that smell like chlorine,
VBS
, Freezie pops, Craft days at the library, Grilling in the backyard, Mosquito bites and the smell of sunscreen, Home-made icecream, Garden fresh greenbeans, Laughing with good friends, Picnic lunches, Playing at the park,
Cheering for Daddy
, Sidewalk chalk, Drippy watermelon, Stickers and construction paper, Lightning bugs,
and crashing into bed tired and happy from the fun of a busy, Summer day.