~~Some husbands bring home flowers or chocolate (& my Hubby has brought those things before.)
But Saturday Dustin out-did all the husbands out there when he brought home the most thoughtful gift ever.
~~Our Saturday routine is that Dustin wakes up early and meets his duathlon buddies for their long training ride. When he gets home, the girls are up and waiting for him. The rest of the morning/afternoon is "Daddy Day." He usually takes them to lunch and then somewhere like the park. This Saturday they went to the Science Museum and had a blast. Mommy gets a little bit of uninterrupted art time and the girls and Daddy have some fun bonding time.
~~Anyways, Saturday afternoon when they came home, Dustin walked in and handed me some new paintbrushes. I was so excited and told him that they were better than flowers. He just smiled and walked back out the door. I looked over at Sierra, sitting on the couch with a big smile, squirming like she was going to bust. He walked back in the door carrying this........
......
......
......
......
......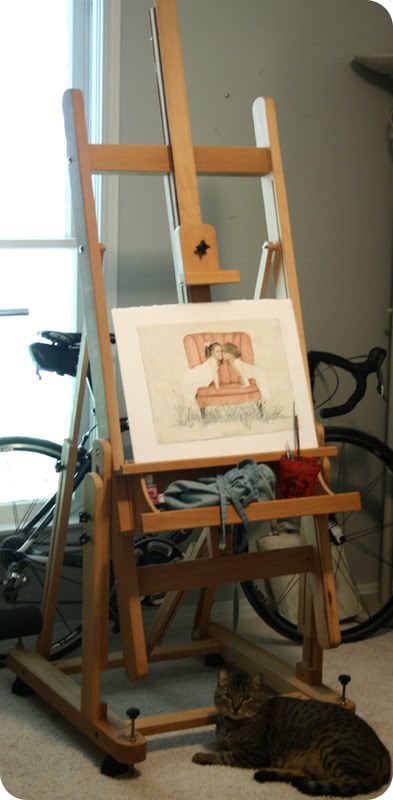 The most beautiful, amazing, incredible easel. I was shocked. I've been using an easel that's
way
,
way
older than I am. It's special to me because it belonged to
my Nana
and I'll keep it forever. But even though it has sentimental value, it isn't that great to work on. It's basically four wooden poles screwed together, lol. But I wasn't complaining at all and I wouldn't have even considered getting a new one. I mean, it works good enough you know? That's how I always think.
~~The thing that meant more to me than the easel or the paintbrushes though, was the thought behind it and what Dustin said to me.
He said, "A real artist needs a real easel so don't even get upset at me for buying it."
And that belief that he has in me was the true gift, better even than my fancy-smancy easel. (Which I totally love!) He believes in me more than I could ever believe in myself. He encourages me, he brags on me (silly boy) and he pushes me along when I need help with giving my fear a little kick in the pants, lol. We've been married 8 1/2 years now and, believe me, we have our fusses and arguments sometimes.
Yes. We really do.
But he truly is my best friend and a blessing in my life. He supports me. I support him.
And all in all I think we make a pretty good team.
~~So now I have no excuses not to paint, lol. I have to use my beautiful new toy. And yes, if you look in the picture there is a new piece on the easel that is actually close to being finished.
Yay! (More on that later.)
Happy Monday everyone!