~~I finally made a hair appointment for myself today. I've been needing it so badly but somehow it's just easy for me to put myself at the bottom of the list. It felt wonderful to just sit while my hair was washed, cut and styled. It's funny how something small like that can make you feel so good. I'm going to make a point not to wait so long next time.
Sierra took this picture of me after my hair was done. She's become a budding little photographer. Sometimes I let her take pictures of whatever she wants to and it's neat to see the things that she finds interesting. You get a little glimpse into the mind of a child.
(Do you see why people guess me to be 17!? Uggg. I actually had a guy ask if I was 22 a while back and I was excited that he guessed 20 something, lol.)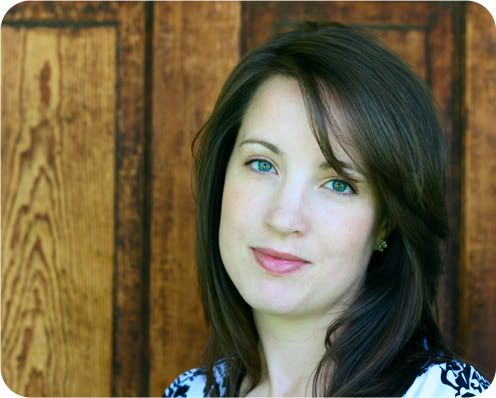 ~~When I look at my blog stats, I see that one of the main draws to my blog are the recipes. (Kinda funny for an art blog.)
Especially the
Starbucks Mint Brownies
and
The Best Big Fat Chocolate Chip Cookies
. I really enjoy baking things. It's just another way to be creative with your hands. So, since I haven't shared one in a while, here is the recipe to the Blueberry Scones that I made last night. I've never made scones before but they were really not that hard. The end result was a cross between a muffin and a biscuit and they were
Yummy
! I forgot to take a picture of them. Sorry about that.

Blueberry Scones
*2 Cups all purpose flour
*1/4 Cup packed brown sugar
*1 Tbs baking powder
*1/4 tsp salt
*1/4 Cup butter, chilled
*1 Cup fresh blueberries (If you use frozen, be sure to rinse them in cold water first.)
*3/4 Cup half-and-half cream
*1 egg
Glaze
*1 Cup powdered sugar
*2-3 Tbs milk
*1 tsp lemon juice
1.Preheat oven to 375 degrees
2.Mix flour, sugar, baking powder, and salt in bowl. Cut in butter. Add blueberries and toss to mix
3.In separate bowl beat together cream and egg. Slowly pour into dry ingredients. Stir gently, don't overhandle.
4. Drop dough onto ungreased cookie sheet. (Makes 12 scones.) Use fingers to gently shape into triangles.
5.Bake for 20 minutes until lightly browned.
6. Mix powdered sugar, milk, and lemon juice to make glaze. Drizzle over warm scones.
7. Enjoy!
Happy Wednesday!