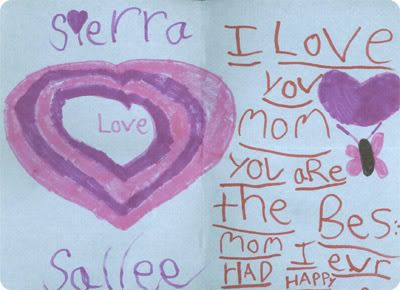 I just realized that I cut the bottom off, lol. It says "

Happy Mothes's Day

." (Spelled just like that.)

~~Strep has hit our house again. Yesterday at about 5:00 in the morning Sierra woke up saying that her throat hurt. I was really hoping that it was just dry but my "Momma instinct" was worried. I gave her some cold water and she went back to sleep. When she woke up a couple of hours later her throat was worse. With Kindergarten graduation this Friday, I wasn't going to take any chances. We got into the doctor right away and, sure enough, a bad case of strep. I'm just glad that we caught it when we did. She'll no longer be contagious after 24 hours on antibiotics so we should be able to make graduation tomorrow. I just can't believe that she caught it again so soon. It's only been a month!
~~I don't know how to be honest without sounding like I'm complaining, but I haven't felt too great health-wise myself. I'm having the worst trouble sleeping lately; not sure why. I wake up so many times throughout the night. That makes my days a bit rough. On top of that my allergies are starting to go crazy again. (Thank you Oklahoma wind, uggg.) I'm trying to learn to simply take each day as it comes, to be gentler with myself. I'm enjoying having both of my girls home today and watching as they play pretend together. Summer is going to be fun.