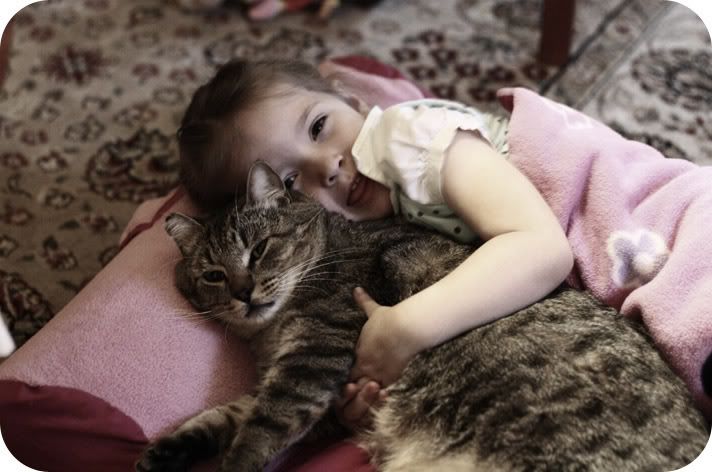 ~~I can already tell that this month is going to be so busy being the last month of school. I figured it was better to post something short and quick than to not post at all.
~~Today is a rainy, sleepy kind of day. I built Savannah a tent out of the dining room chairs and a sheet. Then we blew up the sleeping bag and she's been enjoying resting in her "tent." I don't often post pictures of our 5th family member; Brenden. He really is part of our family and he loves the girls so much. He saw her lying on the sleeping bag and snuggled up right beside her. (It might also have been because he's very afraid of thunder, lol.)
~~Yesterday, well....you've heard that line "The best laid plans...." That would perfectly describe my day. I tried to get a painting started but only got a little prep work done. Why is it that when you make plans and set your mind to do something, so many things pop up to derail you?
~~I have to do something this afternoon that I've been dreading. Uggg. It's a meeting type of thing and I'd rather just stay home. I'm hoping it will go much better than I'm anticipating. Somehow, someway I've also got to get groceries today. My poor hubby thinks he might starve if there isn't any fruit in the house, lol. (He knows I love him.) I'm hoping there will be a break in the rain this afternoon.
~~Well, that's the plan. I
am
going to give the painting thing another try. We'll see how the day goes.
:)