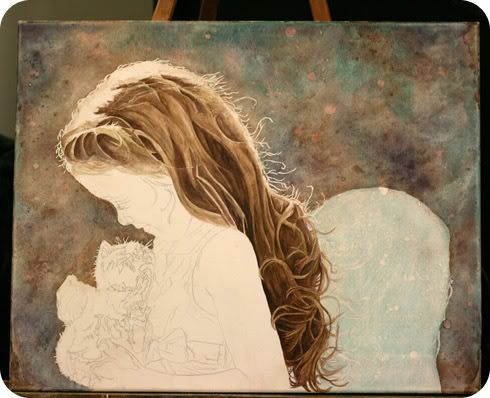 ~~I hope everyone had a nice weekend. Our family did. It was wonderful to have an extra day to spend together.
~~Saturday Dustin took care of the girls during the day while I painted. It was nice to have some time to completely concentrate on my work and the girls love to have "Daddy time." I got a lot of work done on the hair, which is like working on a complicated puzzle. I still need to do a little more layering but that part is close to being finished. The photo is a little grainy because I have it at a low resolution. If you click on it you should be able to see it better.
~~Yesterday was very windy and a bit dreary but it was perfect weather to fly kites! We went to a park with a big open field and the girls had a blast watching the kites soar up in the sky.
~~Sierra has 3 more days of school this week. (Yes, she's already graduated.) We're all looking forward to the summer but I've been thinking that I need to come up with a plan for some fun things the girls can do. Sierra is so used to having a very structured day. That worries me just a little. I think a trip to the Dollar Store is in order so that we can stock up on sidewalk chalk, bubbles and other summer items.
~~I'm hoping to get some more work in on this today. I'm starting to see it coming together and that gets me excited.
~~Happy Tuesday Ya'll!