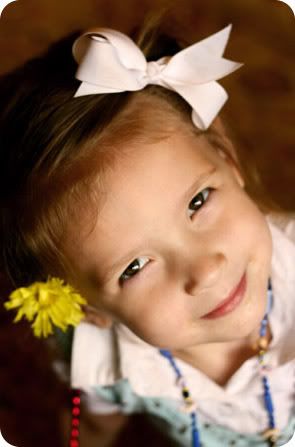 ~~Today was grocery shopping day. Uggg. That is one chore that I really don't enjoy. But it helps when you've got a cute little shopping buddy like I do. I know I'm biased but, come on, you've go to admit that she's a cutie pie. People stop me just to talk to her. She loves to talk right back and when they walk away she says, "I'm not shy anymore."
~~I'm so excited to start my next painting. I've got it planned out and have my references but I think I'm going to take a short break in order to tackle a project that I've been putting off for too long.
~~About a year ago I wrote an ebook for a really neat company called
You Can Make This
. I used to own a small business selling a
unique nylon bowband
that I had created for my girls. It actually was getting to be not-so-small of a business anymore and I made the tough decision to quit. (There's quite a dramatic story behind my decision that I may share sometime.) I decided to shut it down and focus on my art but this left my wholesale clients in a bind. So I got together with the ladies from
www.youcanmakethis.com
and wrote a book that told all the secrets of how to make the headbands.
~~Besides the headbands I've also had a lot of interest in the fun little korker bows that I make for the girls. So I've been intending to write another instructional ebook to share.
Intending
is the word though. After writing the first ebook, I know how much time and effort goes into it and I've been putting it off. I know I probably sound like some sort of advertisement but all of the ebooks on the website are very high quality. There's a long process of writing, editing, having a test panel, and more just to make sure that the instructions are the clearest and easiest that they can be. It really is a neat website that has more than just "kid stuff." There are patterns for jewelry, knitting, purses, etc.
~~Well, now I've told you all my plan so I
have
to stick with it! Plus, the sooner I get this book done, the sooner I can start on my next piece.
~~Oh boy! I've got to get to work!