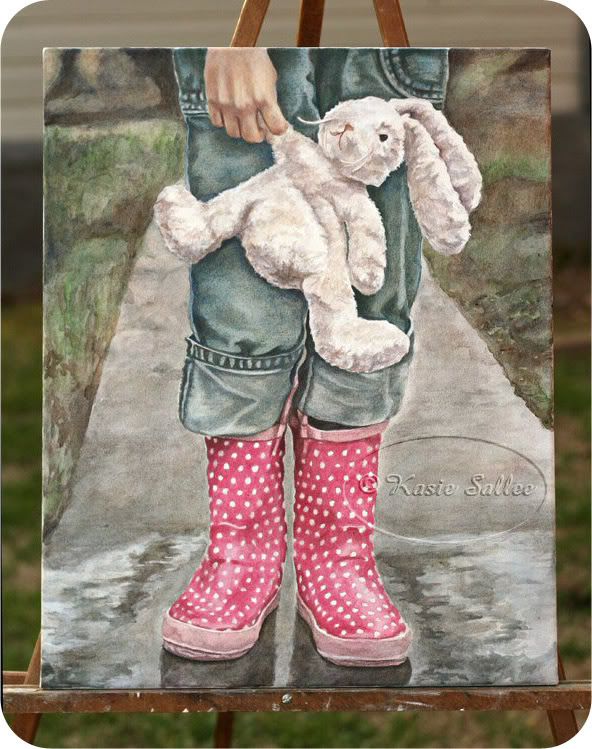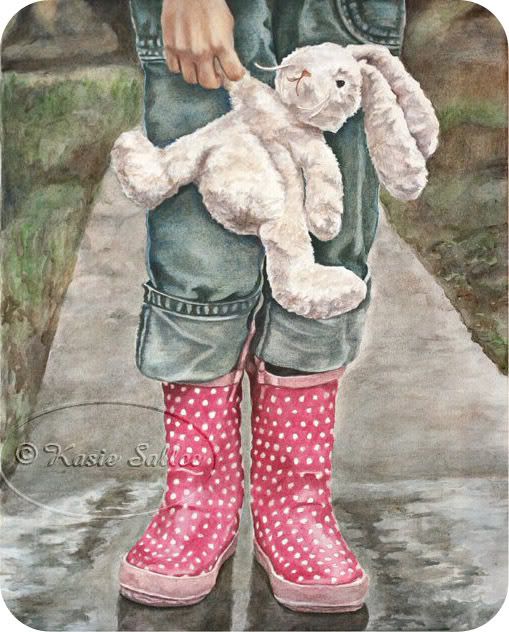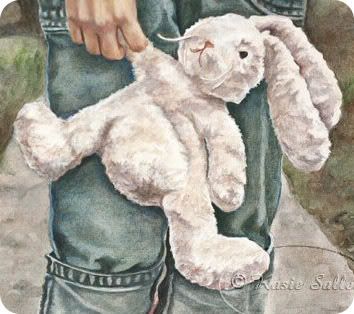 "Rain Buddies" Acrylic & Watercolor on Watercolor canvas~20" x 16"~Copyright 2008 & Beyond~Kasie Sallee
~~This might sound a little "hokey" or "artsy-fartsy," but that's okay. I'm still going to put it out there.
~~I've heard other artists say before that sometimes the meaning of a painting doesn't come to them until they're working on it. That usually isn't the case for me. Most of the time I have a clear-cut idea of where I'm going before I even start out. But this painting was different for me.
~~My Nana passed away in early March; right after I had finished the first
Angel
painting. The next couple of weeks passed in a haze. After the funeral was over and my family had all gone back to Alabama, I was having trouble getting back into a normal life routine. I knew that I really needed to start another painting to give myself something to focus on. I had some ideas but hadn't been able to get the sunny reference photos I needed since we had been having day after day of rainy, dreary weather. Life was feeling a bit like a rainstorm to me during this time. We were going through a lot of sickness and some other difficult things. I was just ready for a sunny day. On a whim I took Sierra outside one morning and took some pictures of her in her fun pink rainboots.
~~I was first drawn to the idea of this painting because of the challenge it offered; all of the unique textures like the rain on the sidewalk, the slick shiny boots, the jeans. It was nice to get lost in the process. But as I worked I began to think of my daughters and the lessons that children teach us.
~~As adults, we tend to focus on the storm, but children see the puddles to jump in. I saw another dreary day, but my daughter saw a chance to wear her favorite pink rainboots. And I was reminded as I worked that, just like my daughter always has a favorite "stuffed animal lovey" with her, I too am never alone in the storm. My family was showered with so much love during our difficult time and it truly warmed my heart. And though at times things felt a little upside down, I was reminded that I am loved by a God who has promised never to leave me or forsake me.
~~So this painting that started without a lot of direction has come to be very meaningful to me. And it's my hope that it might give a little comfort to anyone else out there who's going through a rainstorm of their own.
**I just realized that I'd forgotten to sign this. Ooops. Off to do that. Also, the skin is looking much darker on screen than it is in real life, but the rest is pretty close to actual colors. (At least on my screen, lol.)