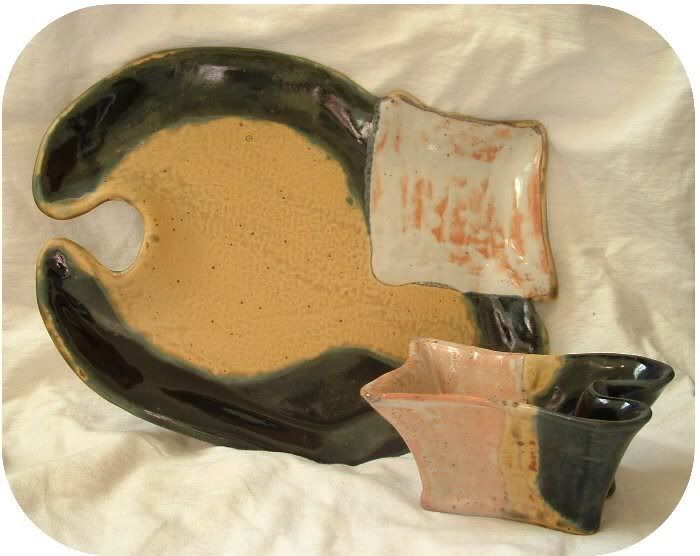 ~~My brother and sister are both artists. A love of art runs in the family. I found this picture of some of my sister's beautiful pottery pieces and thought I would share. She's actually in her first year as a highschool art educator and we're all pretty proud of her.
~~As kids our parents encouraged each of us in our art. I'm so thankful for parents who valued creativity.
I had seen a link to
this talk
by Sir Ken Robinson before but didn't take the time to watch it until yesterday. I'm
so
glad
I did! It's called "
Do Schools Kill Creativity
" and I highly encourage you to listen. As a parent, it's really a sad and scary thought to me. Sierra is just starting school and at this age kids are still allowed to be creative and mix fun into learning. I love walking down the halls and seeing all the fun projects and crafts they've created. Her classroom is all about exploratory learning. It's wonderful. But I know that as she gets older that will change.
~~Some highlights from Sir Robinson's speech:
***"Kids will take a chance. If they don't know, they'll have a go. They're not frightened of being wrong. Now I don't mean to say that being wrong is the same thing as being creative. What we do know is If you're not prepared to be wrong, you'll never come up with anything original."
***"I believe this passionately, that we don't grow into creativity, we grow out of it, or rather we're educated out of it."
***Pablo Picasso once said, "Every child is born an artist. The problem is to remain an artist as we grow up."
~~I know, maybe this is a bit deep for a Wednesday afternoon, lol, but living a creative life and passing that on to my children is something that I'm passionate about. You don't have to be an artist, singer, poet, etc, to benefit from creativity. It's something that we all need. It's the way that God created us. After all, He is the Master Artist.