~~I tend to be an earth tones/neutrals kinda girl. I'm not sure why. I decorate in earth tones, I dress in earth tones. If you peeked inside my closet you would see a lot of black and brown. I think it goes along with my cautious, sensible side. But lately I've been drawn to color: bold, bright, beautiful color.
A couple of inspiring, colorful blog reads that I love:
*Hello! My Name is Heather
*Thompson Family Life
Wow right?!! These ladies know how to live in color!
~~It may sound like a silly thing, but I want to live more colorfully; to really soak in life and notice the vibrant beauty all around.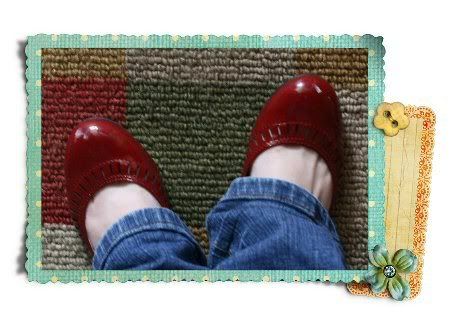 ~~I tend to alternate between my comfy black
Keens
and my go-with-everything brown clogs. In the corner of my closet are these cute but neglected red shoes. I'm surprised I even justified buying them.
I'm digging them out today. Life is too short. I'm living in color!
PS: Thank you, thank you to
Shabby Miss Jen
for helping me add a dose of color to
my blog
!