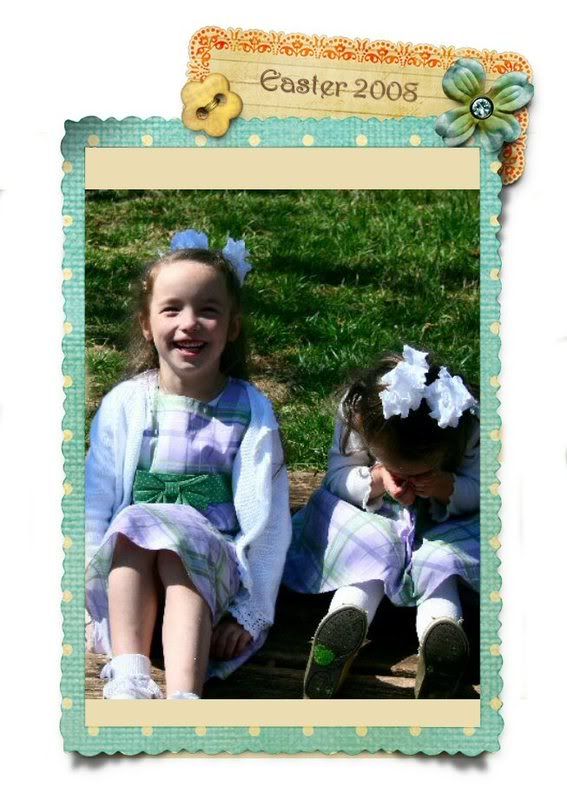 ~~A funny picture from Easter. Poor Savannah had had quite enough picture taking and Sierra thought the whole thing was rather hilarious! (Notice the green playdough on the bottom of Savannah's shoe.) We took several family photos but not a single one turned out. They were either too dark or blurry. I think we're going to have to make a date to try again.
~~The weather has been
gorgeous
here the last two days! Yesterday the girls and I picked out some flowers for our front garden. I'm determined that this year they're going to survive and thrive. (You guys please remind me of that when the 100+ degree Oklahoma summer rolls around and I'm having to water every day.)
~~Sierra has her first track and field practice tonight. (Don't you think the idea of a 5-6 year old track league is pretty cute!) That Girlie loves to run and she's very fast. The Highschool cross-country coach has even taken note of her. He saw her running at the track with Dustin once. She definitely got that speed from her Daddy (not Mommy!) I think she's going to love it.
~~Hmmm. Can you guess what I've been up to,lol? It feels so good to paint again. The goofy face is because I was laughing at myself for taking a picture of my own silly self. Dustin would think I was quite nuts. Anyways, hope everyone is having a lovely day!