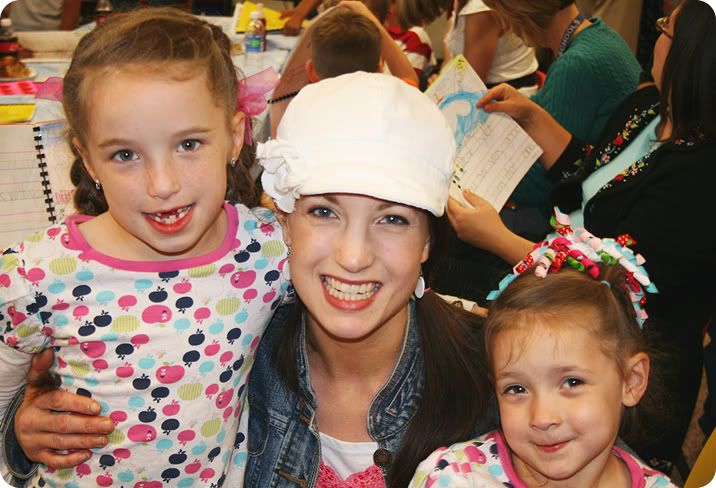 About Me:
~~My name is Kasie and I live in central Oklahoma. I'm a 31 year old Mom to 2 precious girls ages 10, and 6. I've been married to my best friend, Dustin, for 12 years. He's an amazing cyclist/duathlete and a member of
Team Undiscovered Cycling
.
Together we reached one of our life dreams by opening our own business in March 2010;
Daddy's Dent & Ding, Inc
. We specialize in paintless dent repair and hail damage.
~~I'm an artist who works primarily in fluid acrylic on watercolor canvas. You can see my
portfolio here
. When I'm not coloring or painting, :) I enjoy taking family bike rides, reading, running, baking or just having fun with my two girls.
I'm passionately in love with my Saviour. His grace overwhelms me and I love to share that joy with others.
About My Blog:
~~I named my blog "The Art of Life" for a couple of reasons.
First
, I think life
is
an art. The ups and downs, joys and sorrows all come together to make a beautiful picture.
Second
, it is my hope to use my artwork to remind others of the joys of everyday life. I hope that my artwork can be a glimpse of this "art of life."
~~It is also my hope that my blog will encourage others to use their creative gifts. We all have them, whether they are painting, writing, dancing, singing, etc. I want to encourage others, especially
artist moms
, to make that time to enjoy creating.
A Little More about my blog:

~~My interview at
5 Minutes for Mom
How to contact me:
happymommykasie (at) yahoo (dot) com
Ways that you can keep in touch with ~The Art of Life~
1.
Subscribe:
In the top right-hand corner of the blog, there is a box where you can enter your email address. You will then receive email notices whenever the blog is updated.
2.
Comment:
I
truly
enjoy hearing the thoughts and ideas of everyone out there. You don't have to have a blog to comment, but if you do, your comment will link back to your own blog. This is a great way to share your blog with others.
3.
Check out the Favorites and Links buttons :
If you're new to ~The Art of Life~ the
Favorites
section will give you a taste of what the blog is about.
~~The
Links
section is where I will share informative and helpful links as I come across them. I would like to share info on other artists, art tips, and helpful art sites. This section will be a work in progress, so check back often.
4.
Explore the categories menu on the sidebar:

On the sidebar, you will find the buttons to the different topics I discuss, such as
Artist Moms
. You can use these buttons to browse all posts about the same topic.
I think that's all there is! I would like to thank my friend "Sing for Him" at
Real Life
for giving me the inspiration for a blog menu.